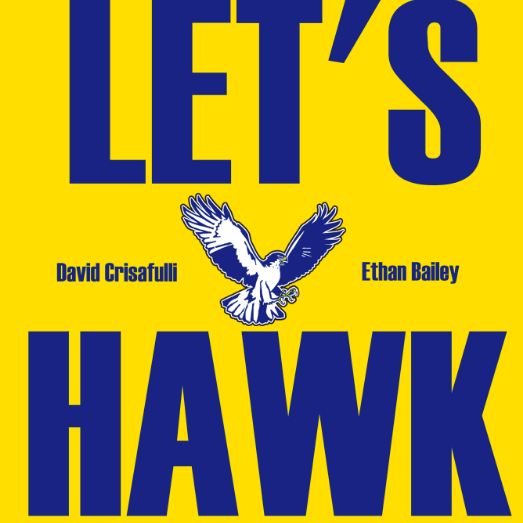 2020 New England Red Sox Service Scholarship is open! Hermon High School has been selected to participate in this program this year. Pick up application instructions in Guidance.
A Earth Systems class modeling and graphing the temperature and brightness of stars then students made interpretations about sequences based upon colors and patterns.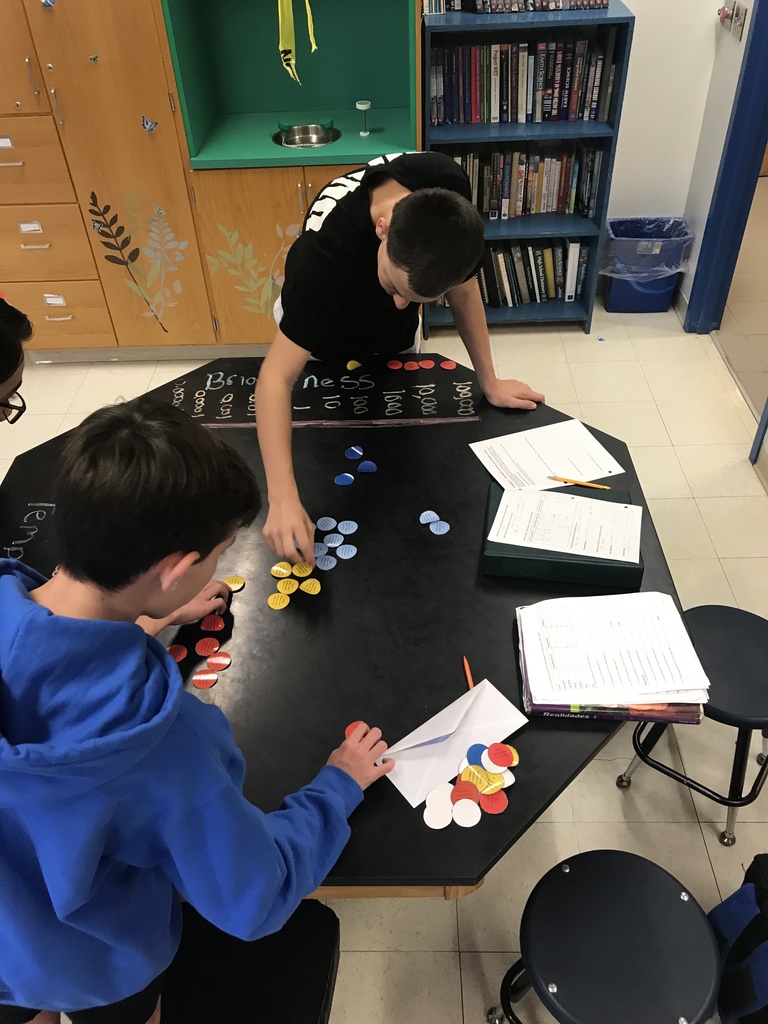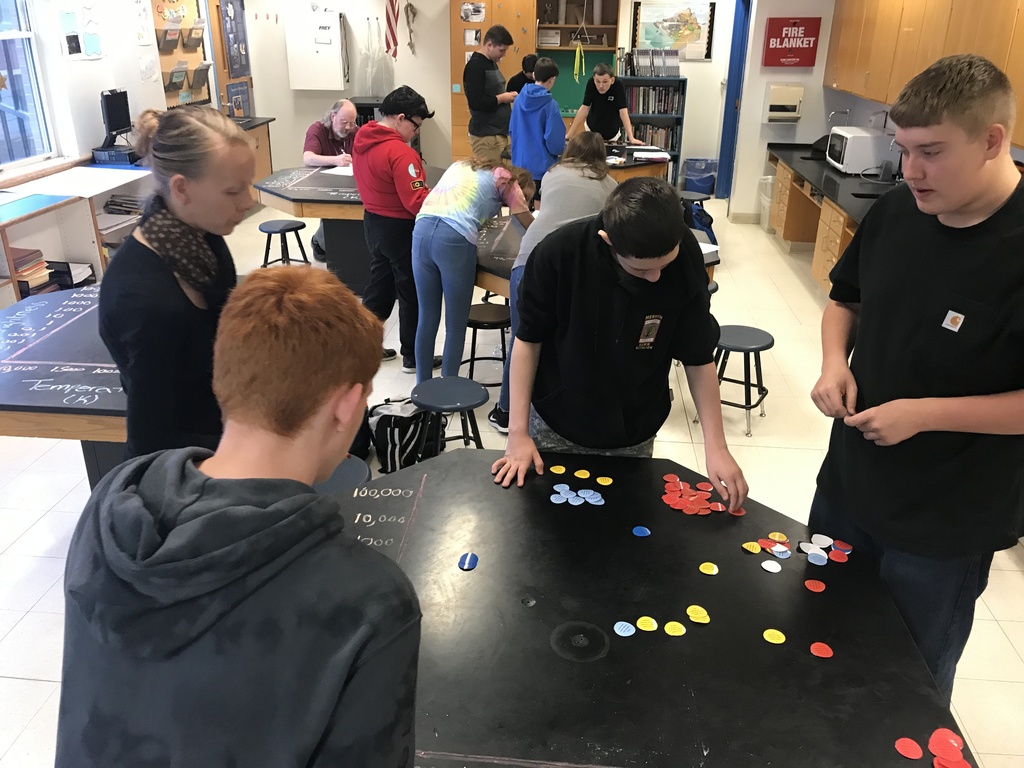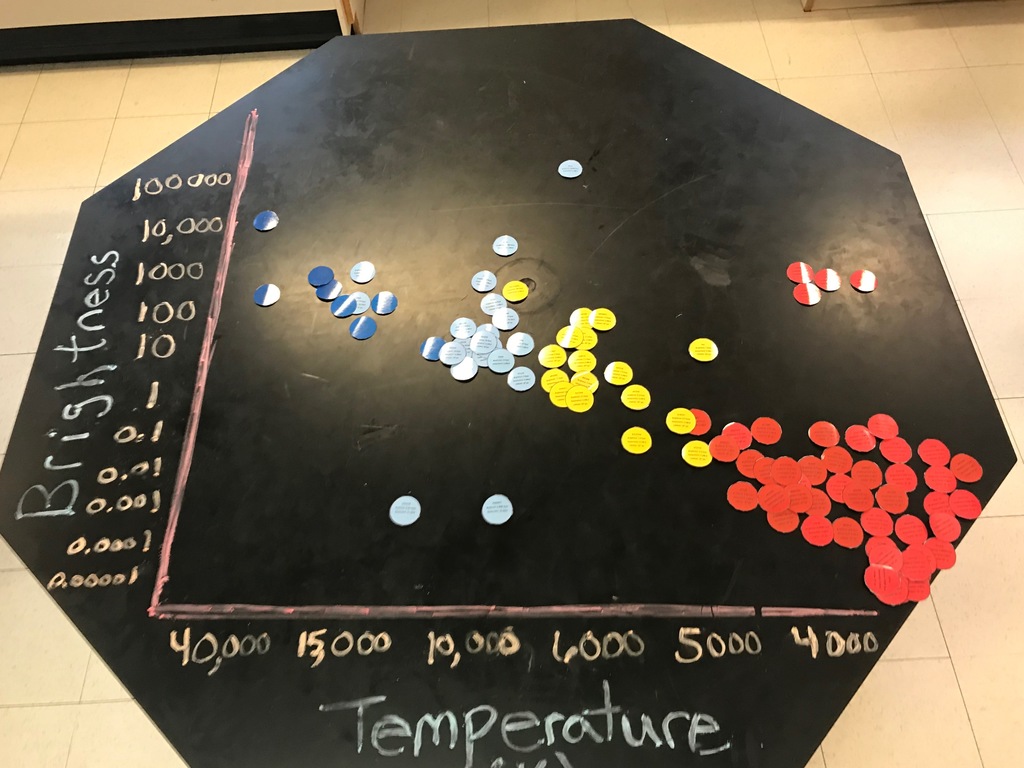 JUNIORS AND SENIORS! Are you interested in taking a University of Maine Orono class this Spring (Aspirations-on campus and Academ-e Online) at an ENORMOUSLY discounted price? Here is where you can find the course offerings:
https://umaine.edu/earlycollege/courses/spring-courses/
Apply for the class through this link here:
https://explorec.maine.edu/
Please remember going over 6 credits per semester through the ENTIRE University of Maine System (UMO, UMA, USM, UMFK, UMM, and UMPI) -students will be charged per credit overage! Questions? See us in Guidance!

Some of our Hermon students participated in the 2019 Maine Youth Leadership Conference today at Hyde School. Thank you Hawks for representing our school!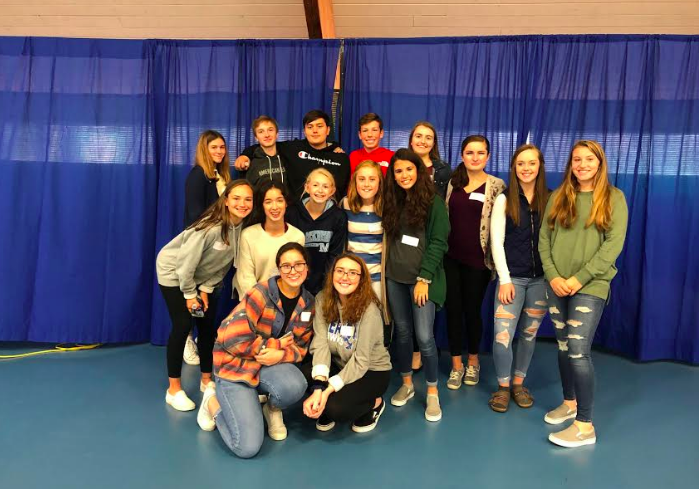 SENIORS! Still not sure what path to take? Check out this opportunity. Would you like to get a head start in healthcare? Northern Light Labs are starting an on the job training program for Phlebotomy, with the goal of expediting new hires into a Phlebotomist II role. Students will begin their employment as a Phlebotomist II-A (Phlebotomist II Assistant) and required to participate in 40+ hours of phlebotomy didactic lectures by NLL, complete 100+ clinical hours at EMMC, orient in the clinical laboratory, therapeutic phlebotomy and POCT. Upon completion, students will be eligible to sit for the PBT exam through the American Society of Clinical Pathology. Some of the details of this program are as follows: The laboratory will hire and train up to five individuals. Applicants are required to be at least 18 years and have a high school diploma / GED. The lab will hire these individuals as 'Phlebotomist II-A" employees throughout the duration of their training. The length of the training program is approximately 3 months and will be a mix of classroom work and clinical PBT certification exam through ASCP upon is expected upon completion. Qualified candidates will commit to work for the laboratory for a term of two years. Want to know more? Contact
kmurray@northernlight.org
.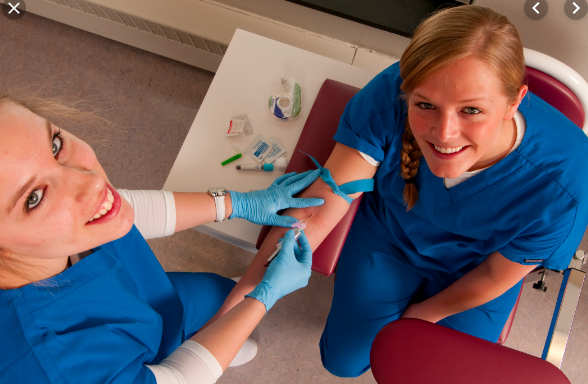 COLBY COLLEGE VISIT TO HHS THIS THURSDAY 8am. SIGN UP IN GUIDANCE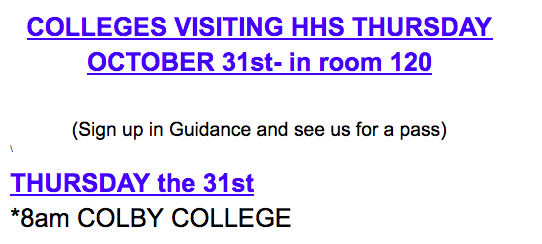 More photos from Day of Welcome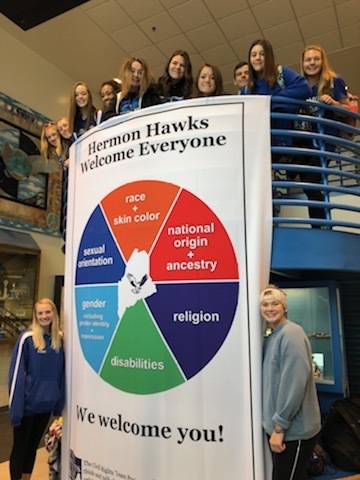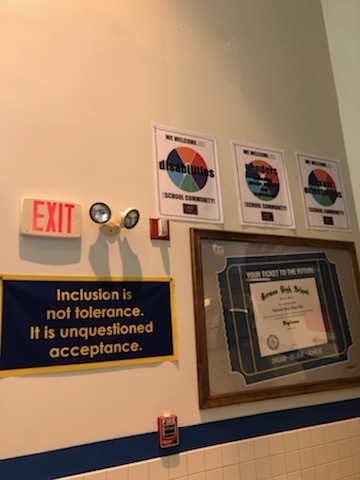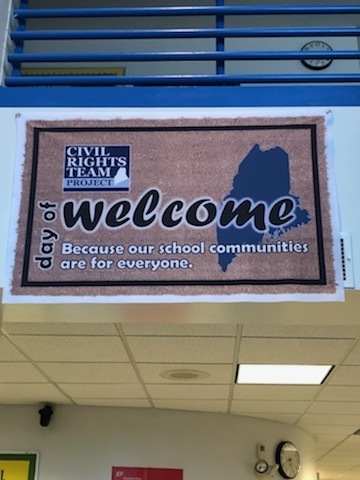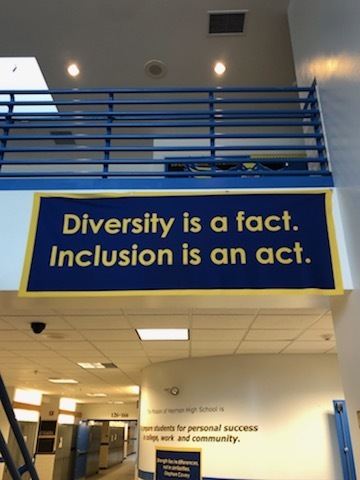 Today we celebrated our school's first-ever Day of Welcome. Our civil rights team and civil rights teams all across Maine celebrated and promoted the idea that our school communities are for everyone. This event was sponsored by the Maine Office of the Attorney General through the Civil Rights Team Project, who support us in our work of engaging the school community in thinking and talking about issues related to race and skin color, national origin and ancestry, religion, disabilities, gender (including gender identity and expression), and sexual orientation. The Civil Rights Team Project and civil rights teams are supported in this work by state law and our school policies. Our civil rights team used the Day of Welcome to make a powerful statement about the kind of school community we all want, while introducing ourselves and engaging our peers in understanding our ongoing work. Thank you to our wonderful staff and students who offered vocal and visible support of the event! Thank you also to Ntension in Bangor, ME for donating these promotional banners! The lasting impact of these banners is immeasurable and our team is beyond appreciative!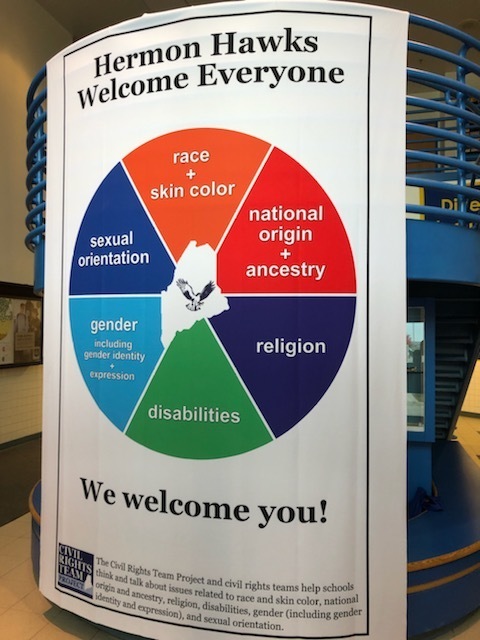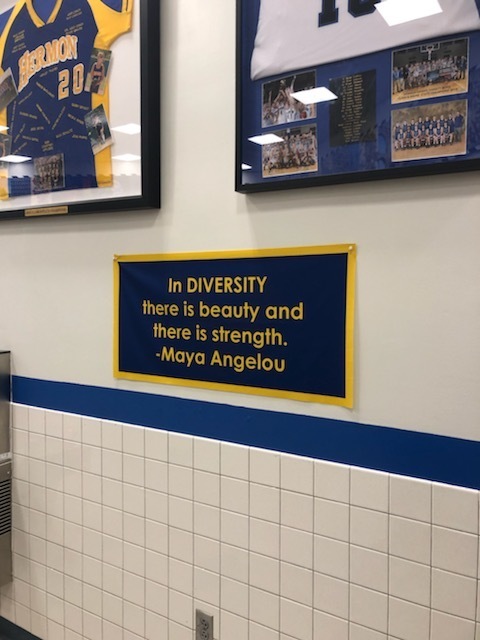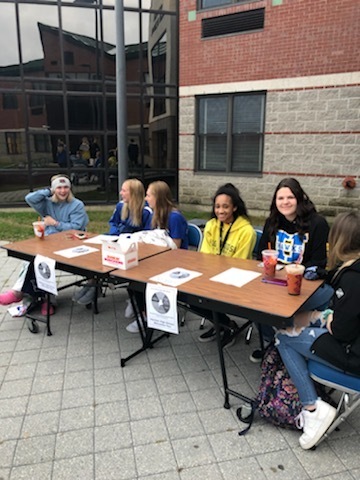 Our Life Skills class made goodwill bags today that will be donated to Bangor Homeless Shelter later this week. They made a total of 33 bags with some with food and hygiene supplies.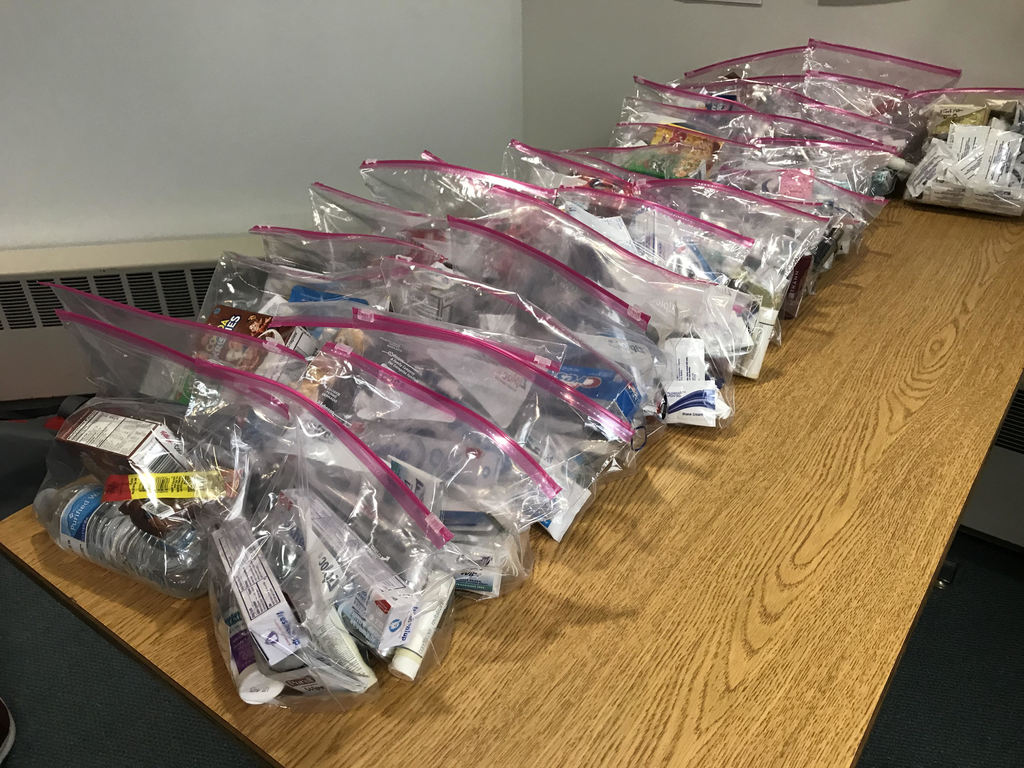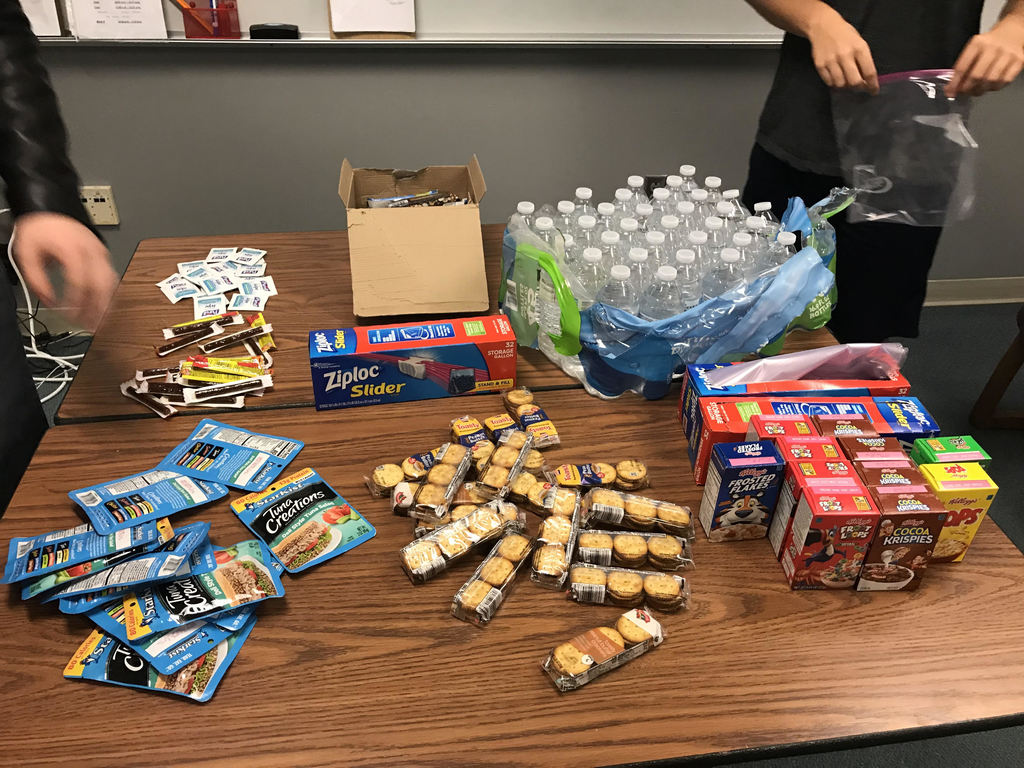 Very neat event coming up! See image!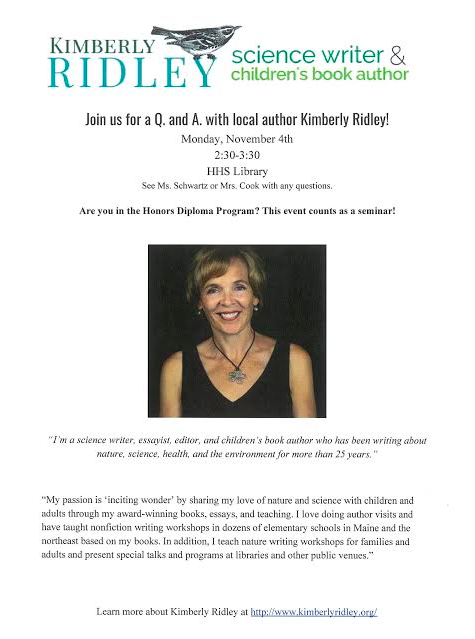 Support the student journalists of Hermon High School by liking or following @HHSHermonPress on Facebook! Also, check out their first published articles of the year at
www.hermonpress.com
. Thanks for reading!
The class of 2023 is selling Yankee Candles. This is one of the biggest classes we've had in a while, and we need to raise as much as we can for senior year activities! Thank you for your support!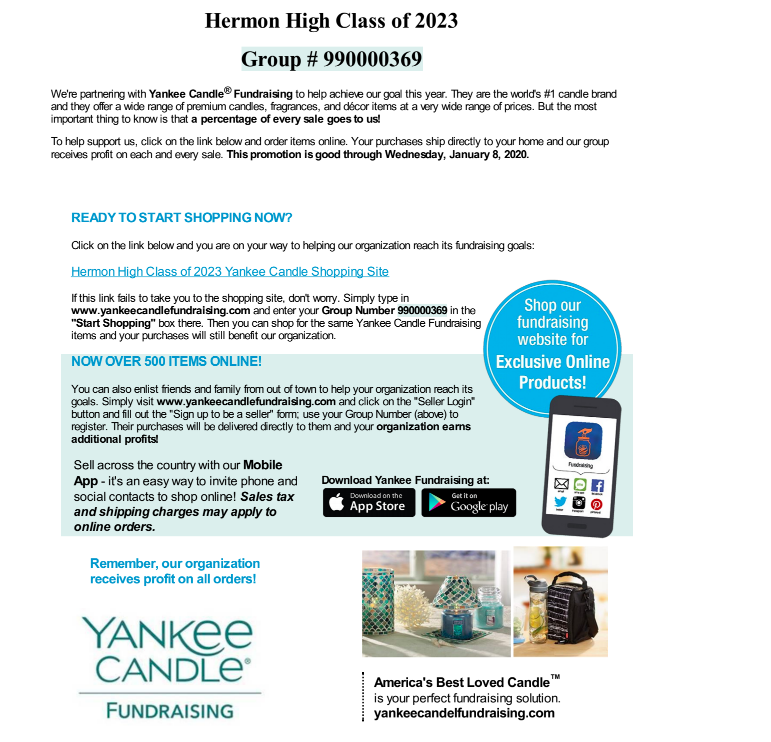 Upcoming fundraiser for Class of 2020! See Image!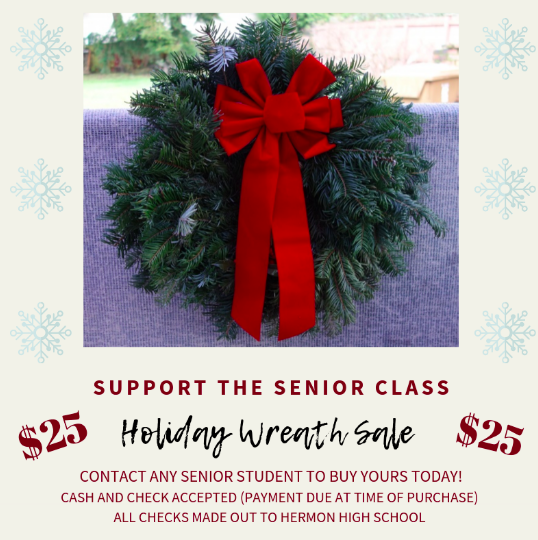 Students planted a Hope Garden today in front of the school as part of the Yellow Tulip Project, which aims to smash the stigma associated with mental illness. After listening to speakers, students wrote down what they were hopeful for and planted the bulbs which will bloom this spring-Hawks 4 Change wants to help others realize that even in the darkest places, hope is always there. There will be another Hope Garden ceremony on Wednesday, October 16th at 5 at Ecotat in Hermon. This event is open to the community. To learn more about Yellow Tulip Project, check out
https://theyellowtulipproject.org/
or see Mrs. Cough to get involved. Follow us ON Instagram @hawks.4.change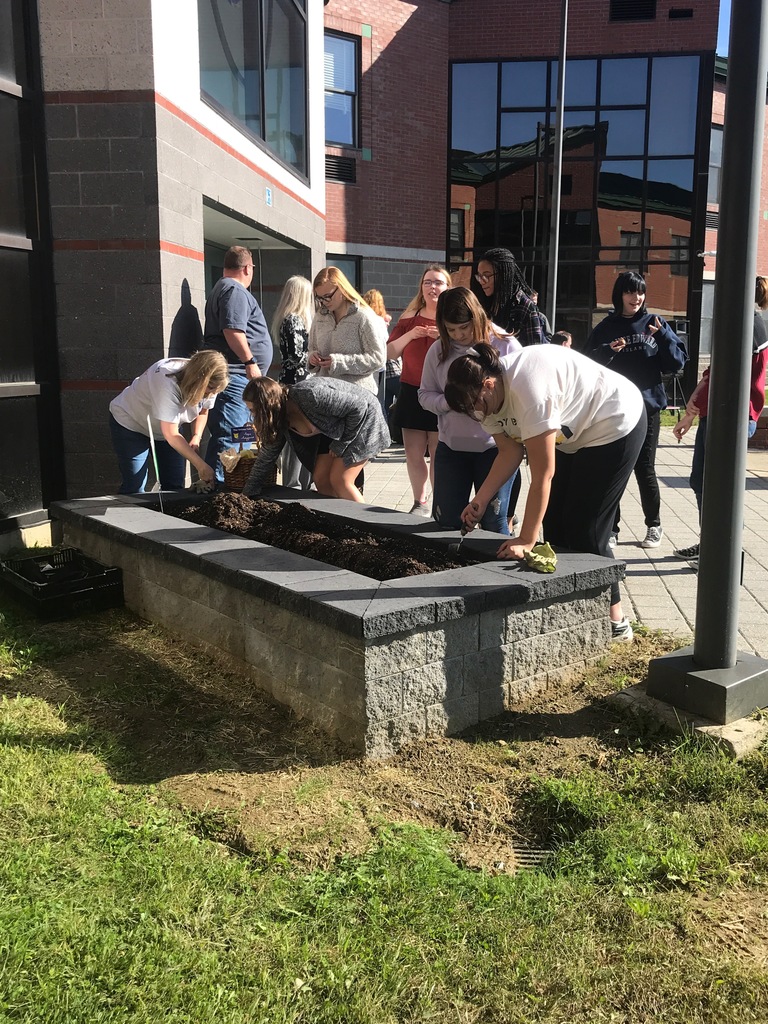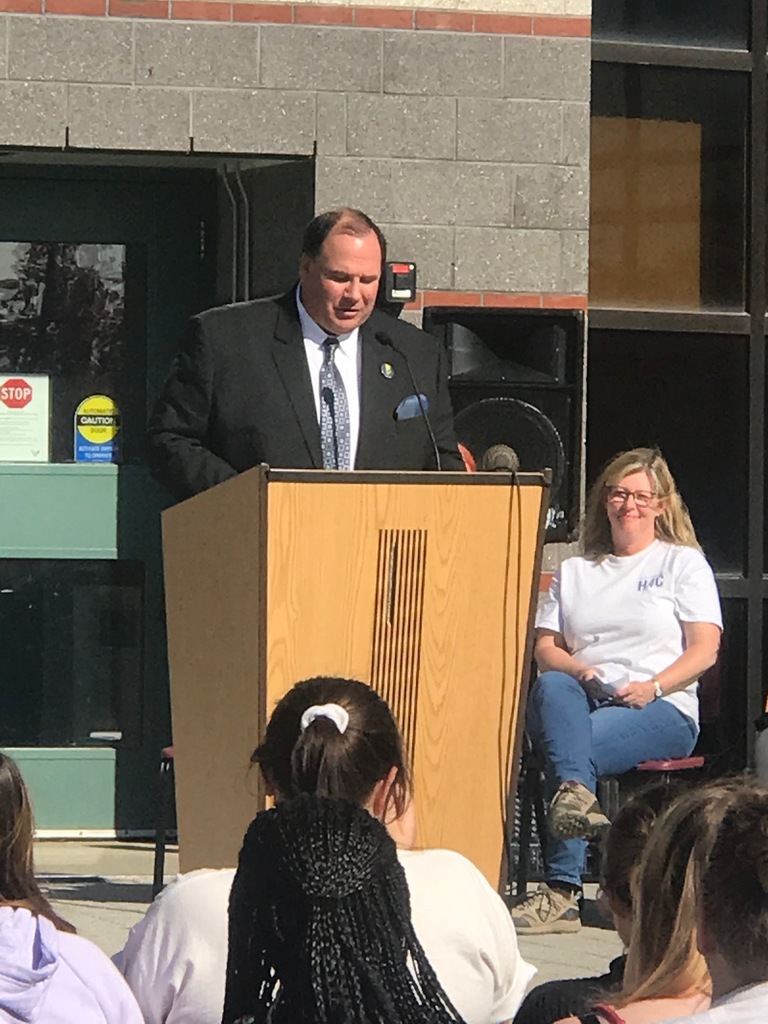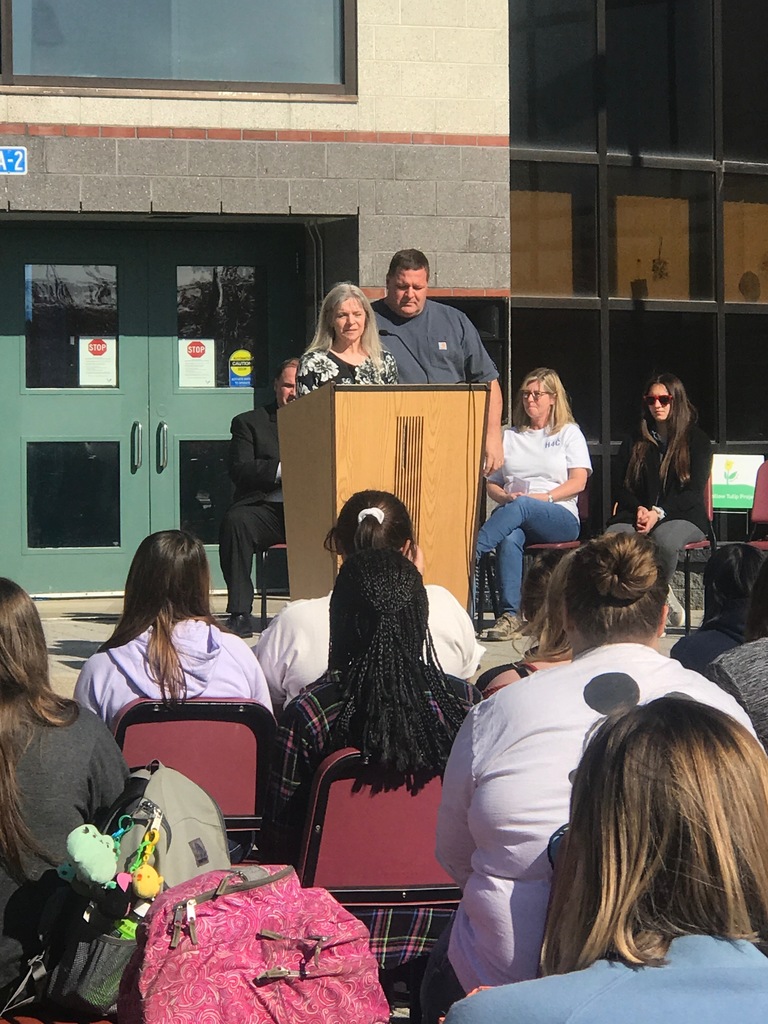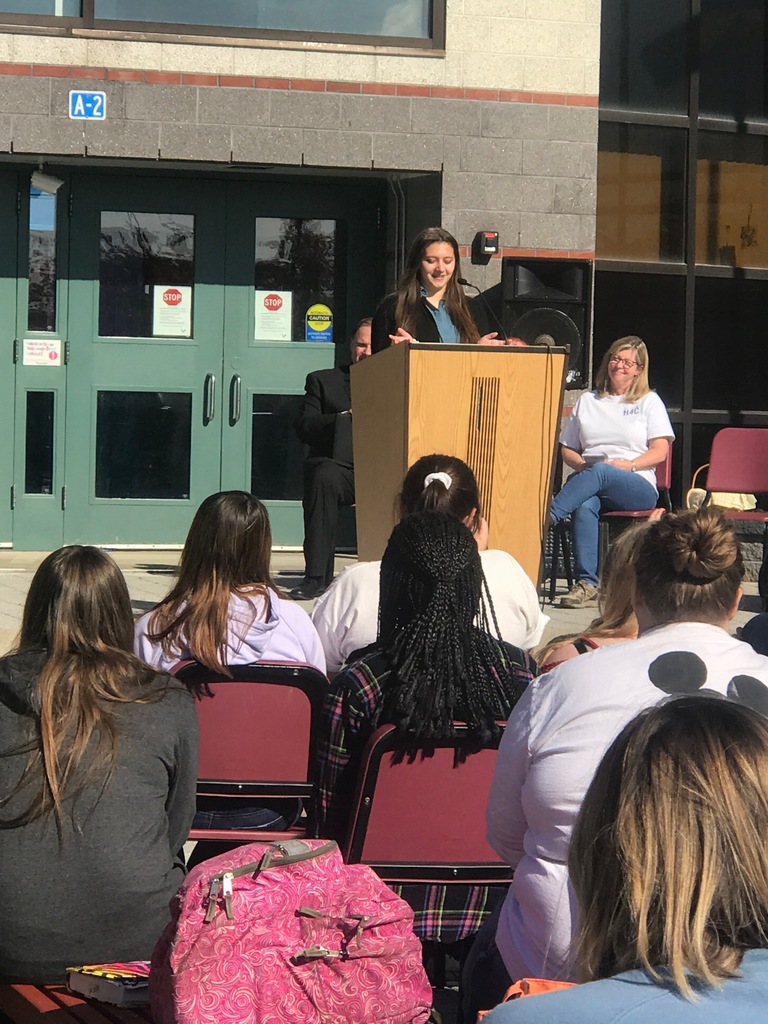 JMG students attending annual Leadership Education Conference. Over next 24 hours they will get opportunity to test and expand their leadership skills through a variety of activities, challenges, and presentations. They'll then bring those skills back to help lead the program for the rest of the school year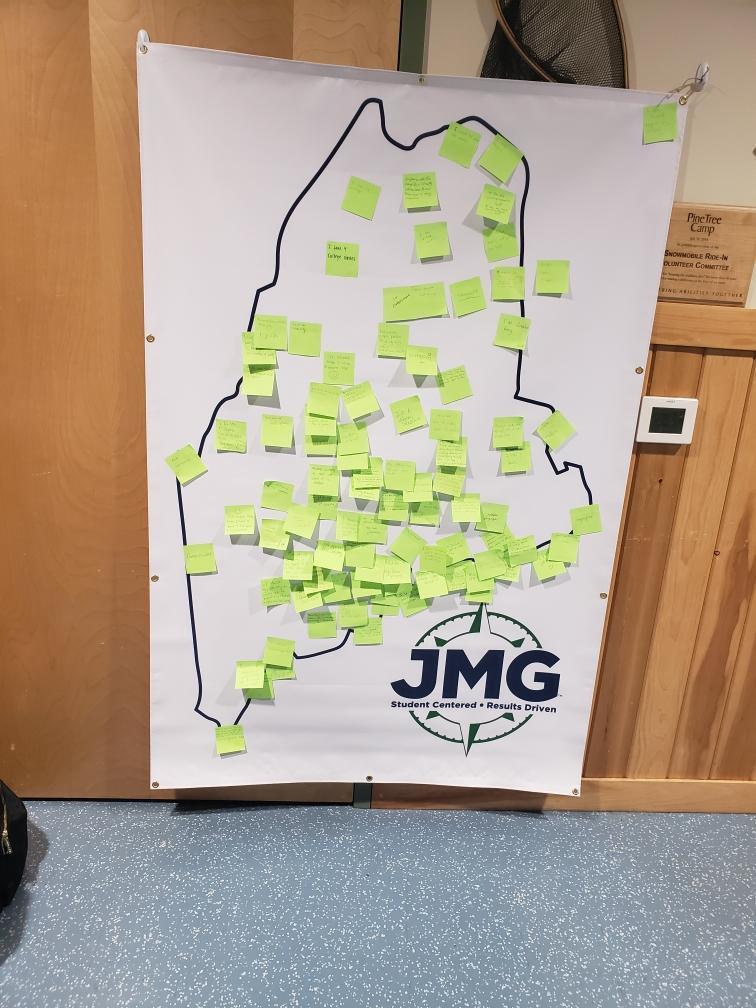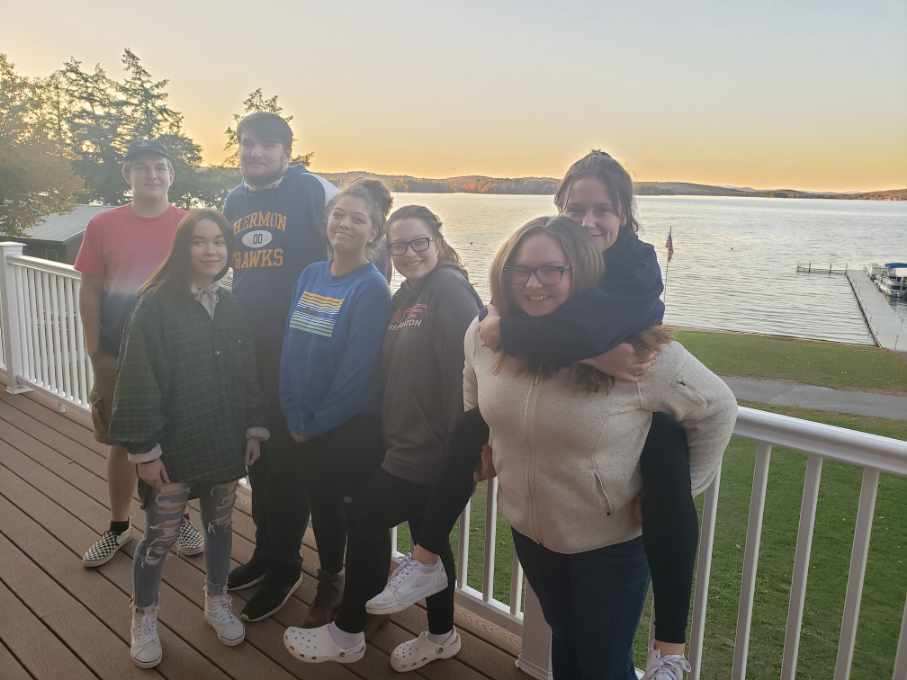 PSAT reminder and Blue/Gold Days shift! See image for details!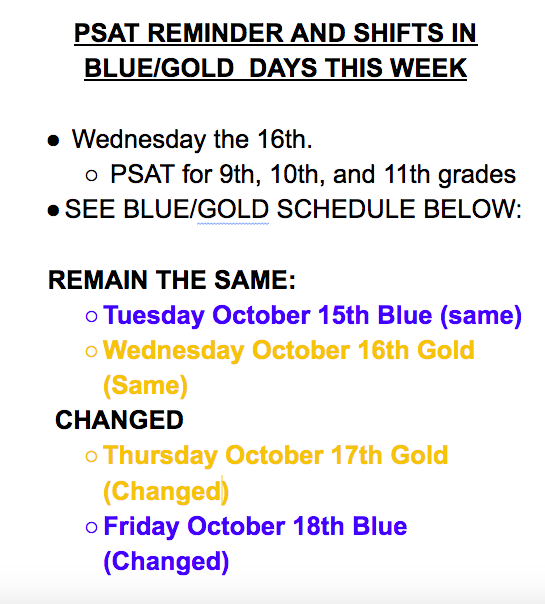 One college visiting this week! University of New Hampshire. Come visit with a college representative from UNH to learn about programs offered! See image for details.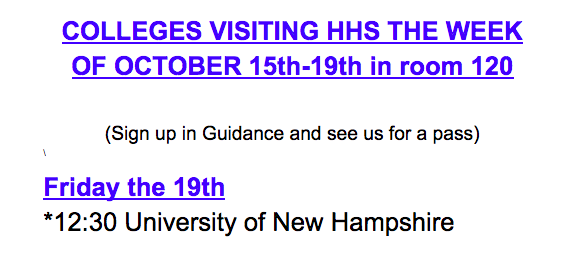 Students in Mr. Petersen's Making History course visited the old one-room schoolhouse across from the Superintendent's Office. They found a variety of items: books from the 1850's, outdated maps and yearbook photos of some of their teachers in the 80's. They decided the building has a lot of potential and are brainstorming ideas for ways they can use the space to learn and teach others about the history of our community. Thanks to student Alex Baker for taking some great photos!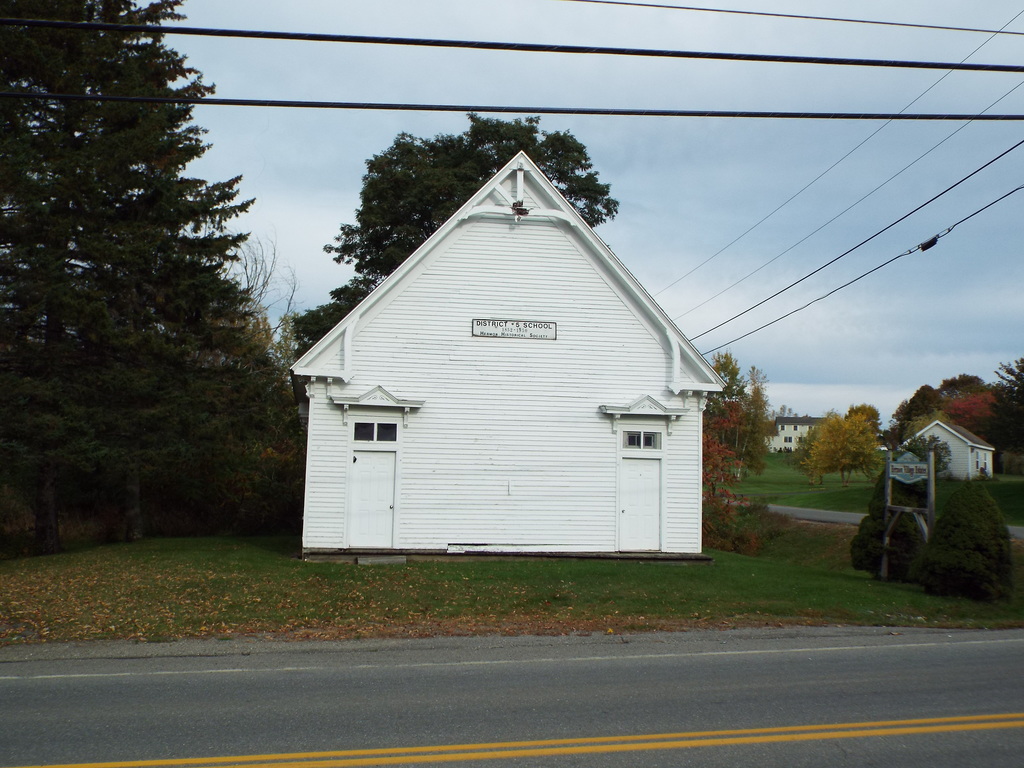 REMINDER ABOUT PSAT NEXT WEEK WEDNESDAY THE 16TH for FRESHMAN, SOPHOMORES, AND JUNIORS!