OPEN MIC!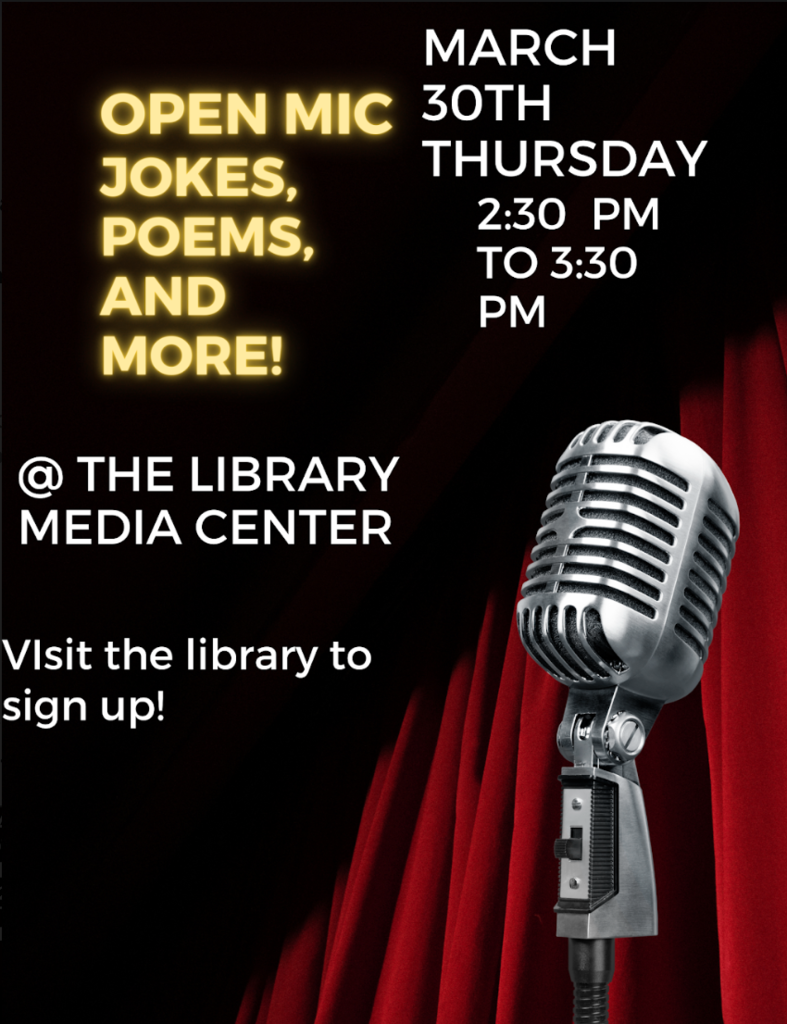 COOKIE DOUGH UPDATE!!!!!!! PLEASE SHARE THIS INFORMATION WITH PARENTS, GUARDIANS ETC... The cookie dough will officially arrive on Monday 27th and can be picked up that same day. We needed a place to store the cookie dough and the cafeteria is receiving an order this week for food; so no space to store the cookie dough that does not get picked up. The delivery will arrive @1:30 on the 27th. The cookie dough comes prepackaged by order so that should make the pick up easier. Not a lot of sorting. Please share this information with parents, since on that day you will need to pick up your frozen cookie dough orders and take them home with you. If parents, grandparents, etc,.. can help you by picking up both you and your order of cookie dough that would be awesome. if you have questions, please don't hesitate to reach out and ask.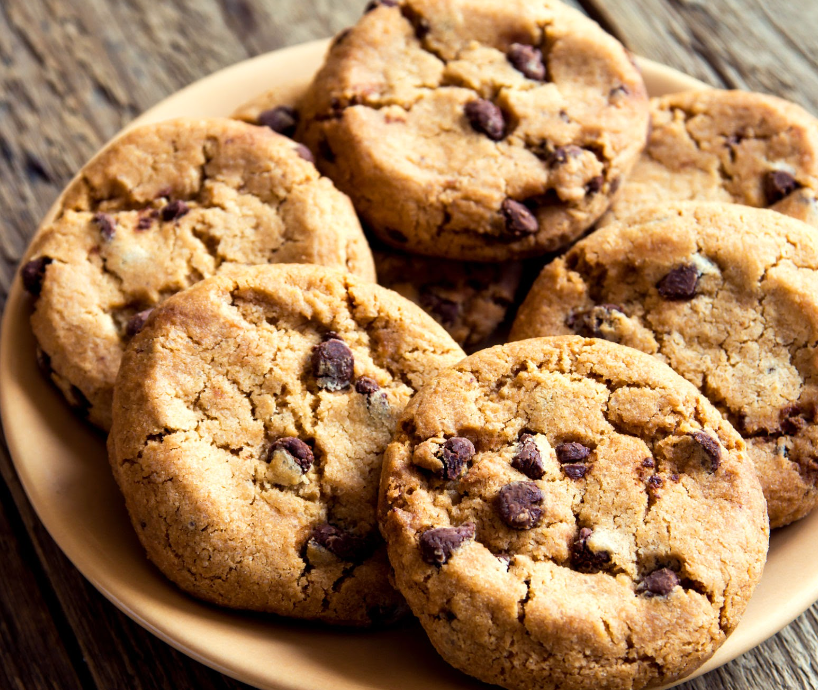 It's that time of year again: Hermon High School's 3rd Annual Golf Fundraiser. This year's event supports the classes of 2024, 2025, and 2026 at Hermon. We are currently seeking local businesses who would like to sponsor our event, businesses that could donate items or goods to our silent auction. or golfers interested in playing on August 26th at Hermon Meadows Golf Course. For more information, reach out to Matt Murray at (207) 735-4932, or via email at
matthew.murray@schools.hermon.net
.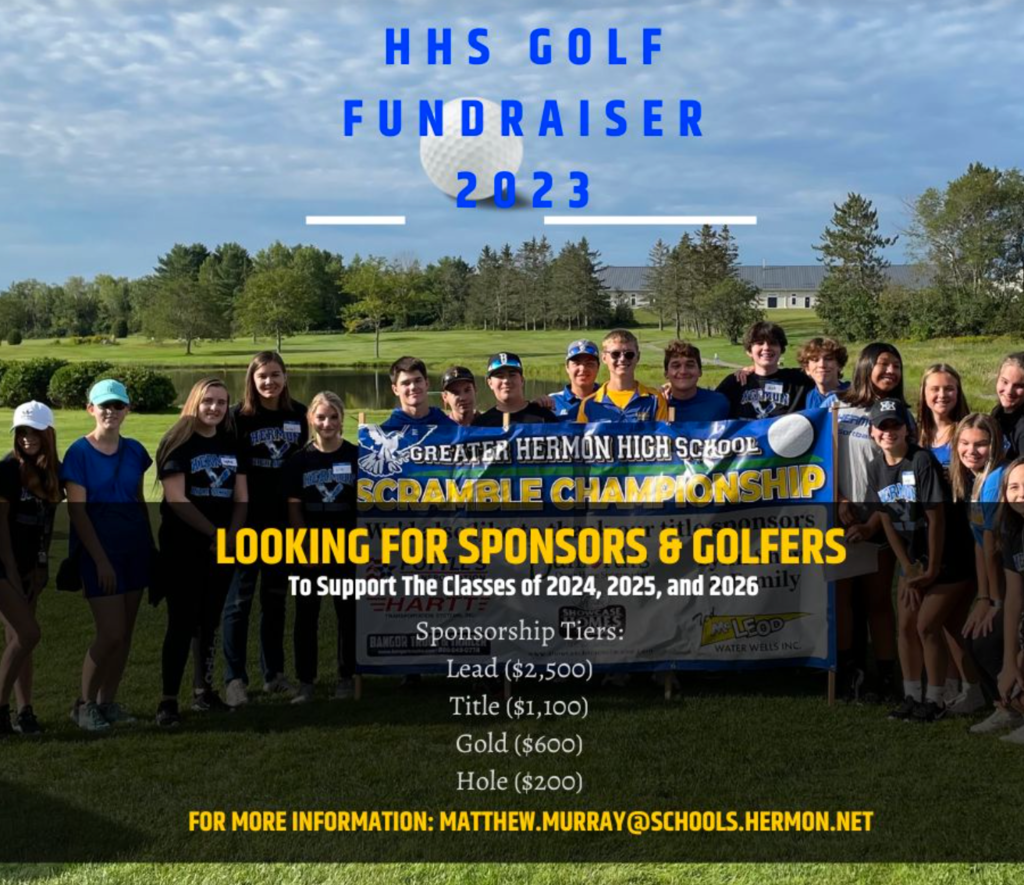 Last week we had several UTC students participate in SKILLSUSA! We are incredibly proud of all of our students. Congratulations to the following for earning medals in their contests! Isabelle Goodine Health Occupations Portfolio Bronze Jaylin Hills Prepared Speech Bronze Veronica Chichetto Medical Terminology Silver Ashley Cote CJ Quiz Bowl - Team A Silver Brady Theriault Diesel Equipment Silver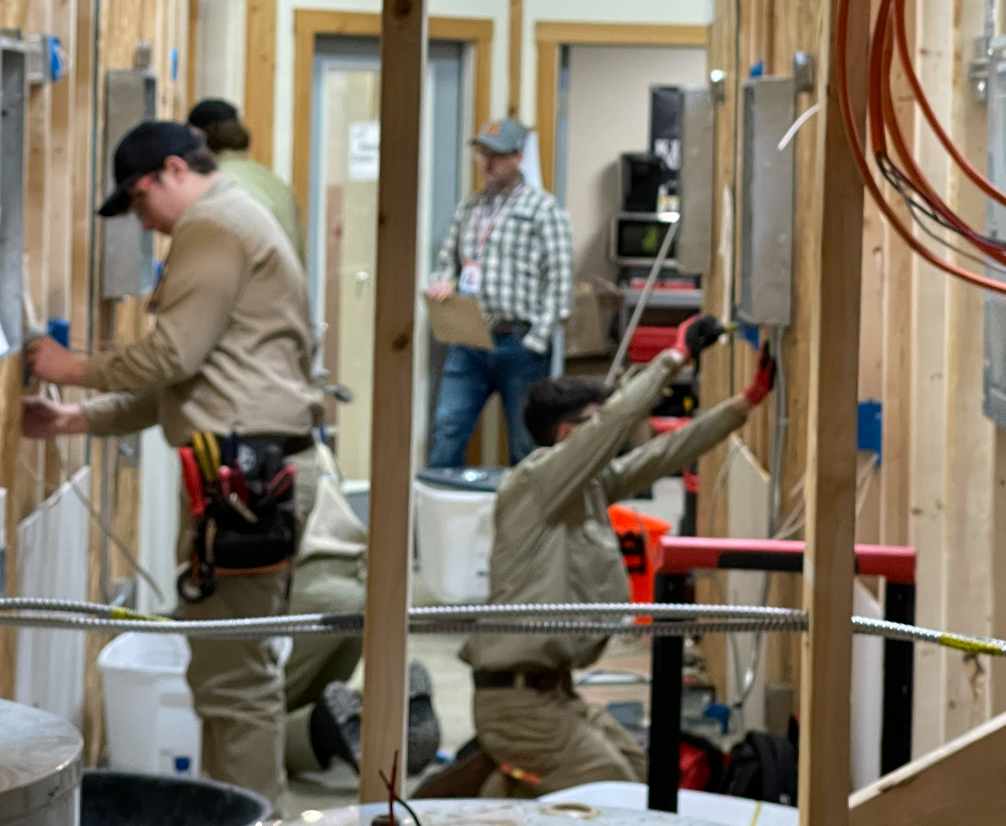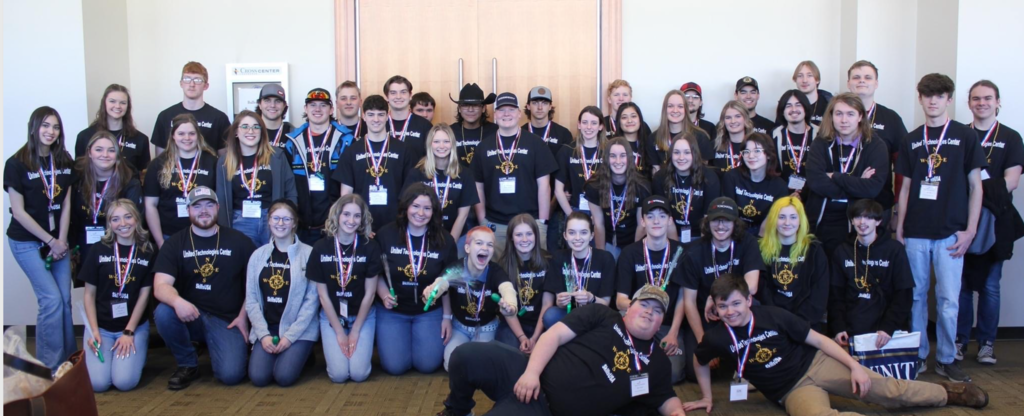 Thursday evening Hermon Key Club inducted 39 new members! Congrats to the newest members and all those who came to support!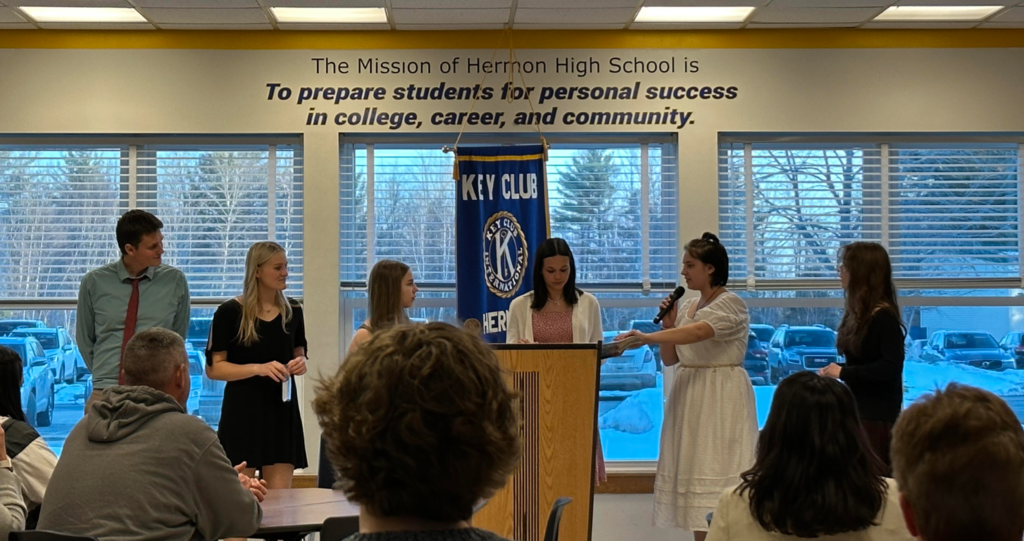 CONGRATS CLASS OF 2024!

Tomorrow March 16 PM assembly.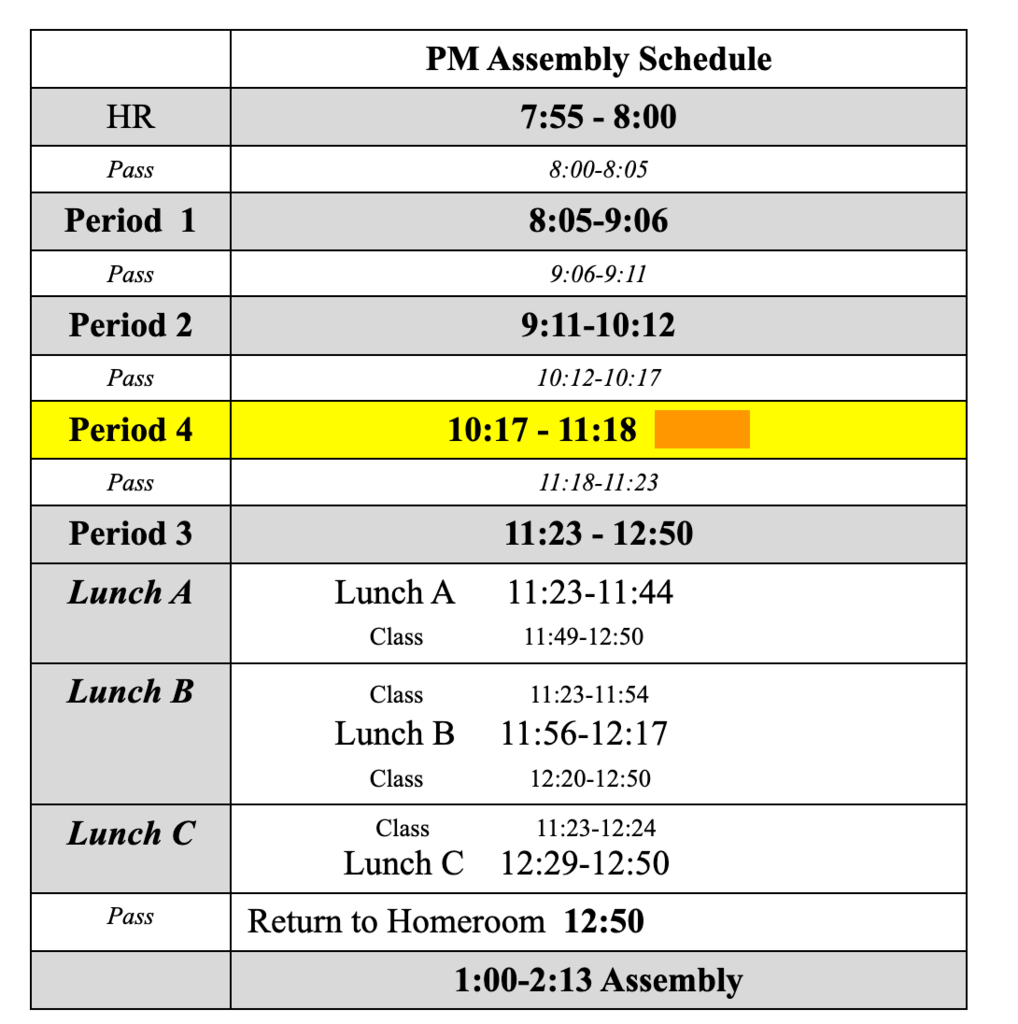 The Theater Department is holding auditions for the Spring Play, "Almost, Maine" on Tuesday, March 21 from 2:30-4pm in the auditorium. You don't need to be enrolled in a theater class to be considered, and all experience levels are encouraged to audition. Please see Ms. Robinson if you have any questions!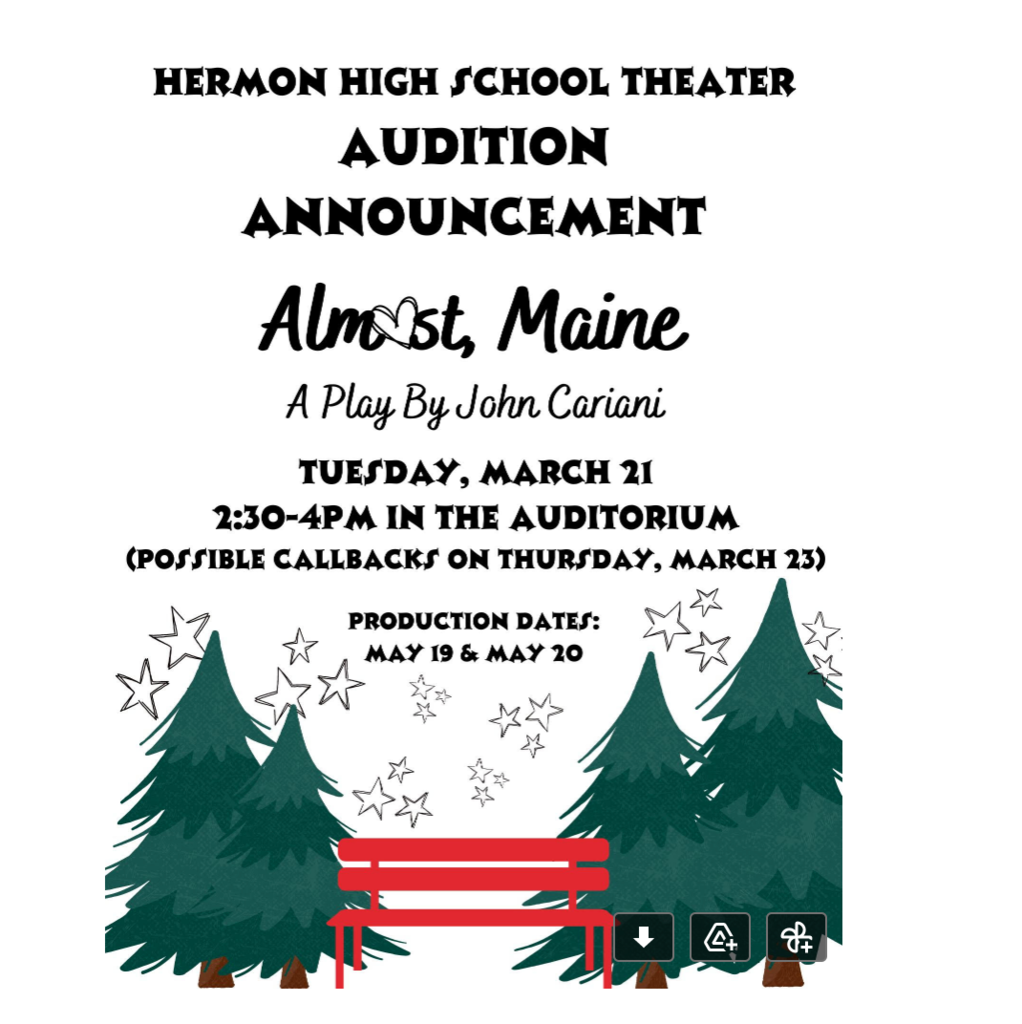 Hermon Schools will be having a 2 hour delay tomorrow (3/15/2023). There will be no AM UTC. Please see image for schedule.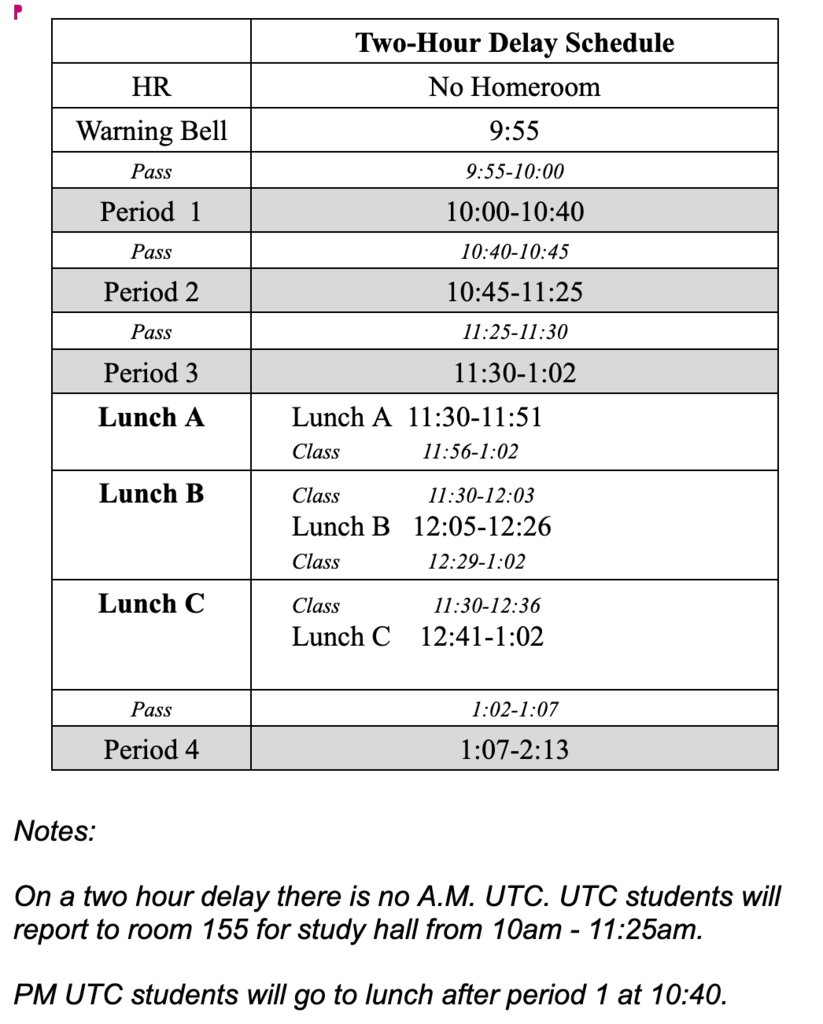 STATE CHAMPION! We are proud to announce that our own HHS Junior, Abigail Case, was awarded Maine State Champion in the state finals of the Poetry Out Loud competition! Out of over 18,000 student competitors across Maine, Abigail now owns the prestigious 2023 title. She has the opportunity to represent the state of Maine and Hermon High School at the 2023 National Poetry Out Loud Finals in Washington D.C. this spring. Congratulations, Abby!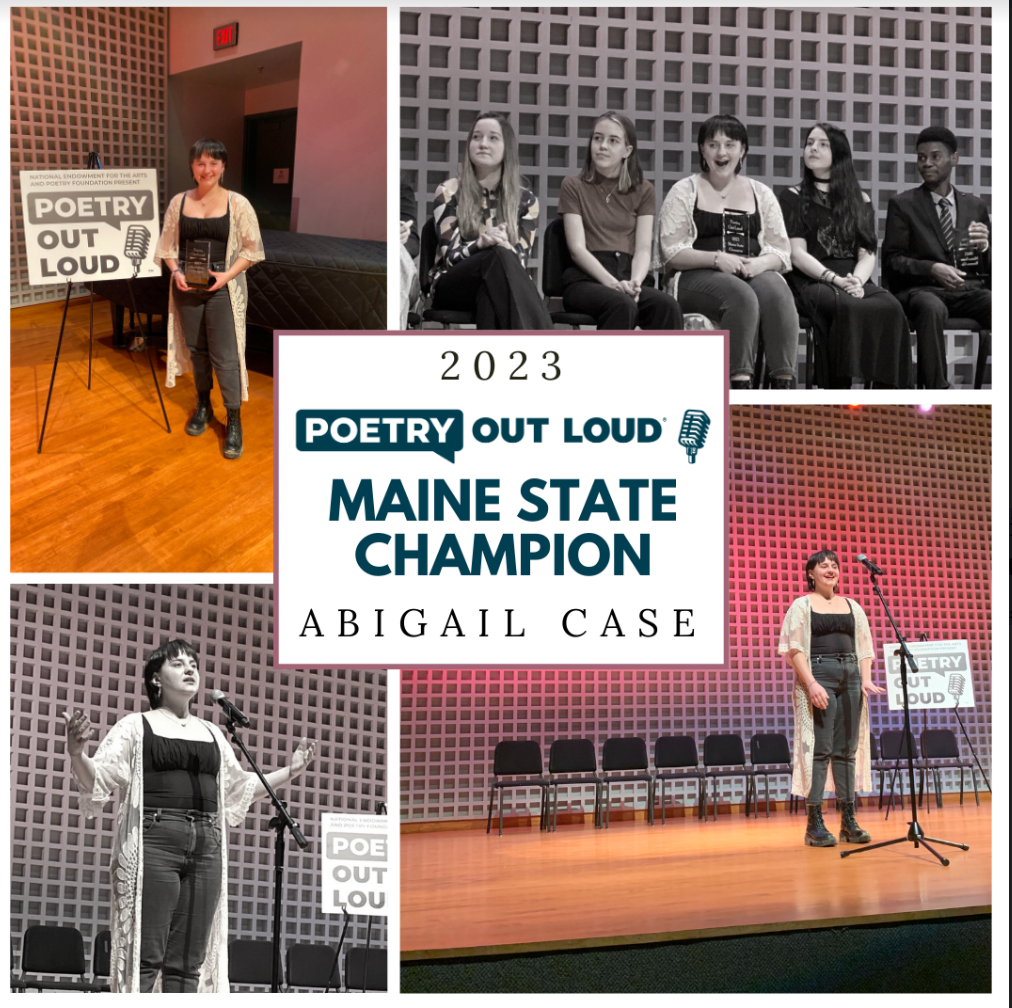 This month is HHS Youth Art Month Student Show at the Bangor Mall. These are the students who are being showcased. Congrats! Joseph Cherry 12 Lillian Bragdon 12 Lily Deschaine 11 Lydia Caron 11 Carly St.Piere 11 Ryan Smart 11 Grace Schiele 10 Noel Hudson 10 Brielle Noyes 10 Zoey Boothby 9 Avah Thurlow 9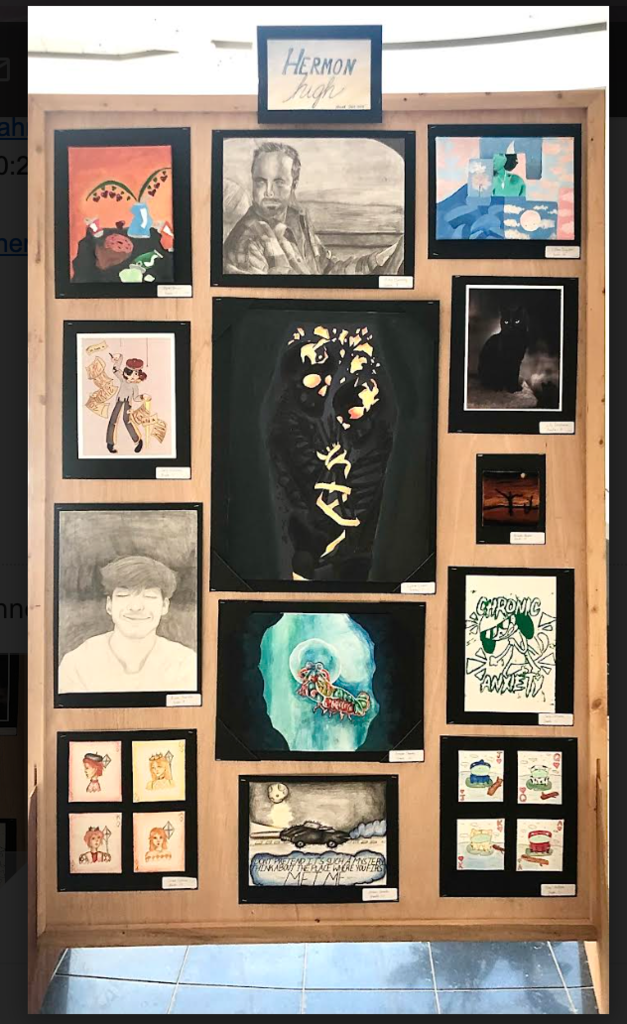 Semi Formal Dance!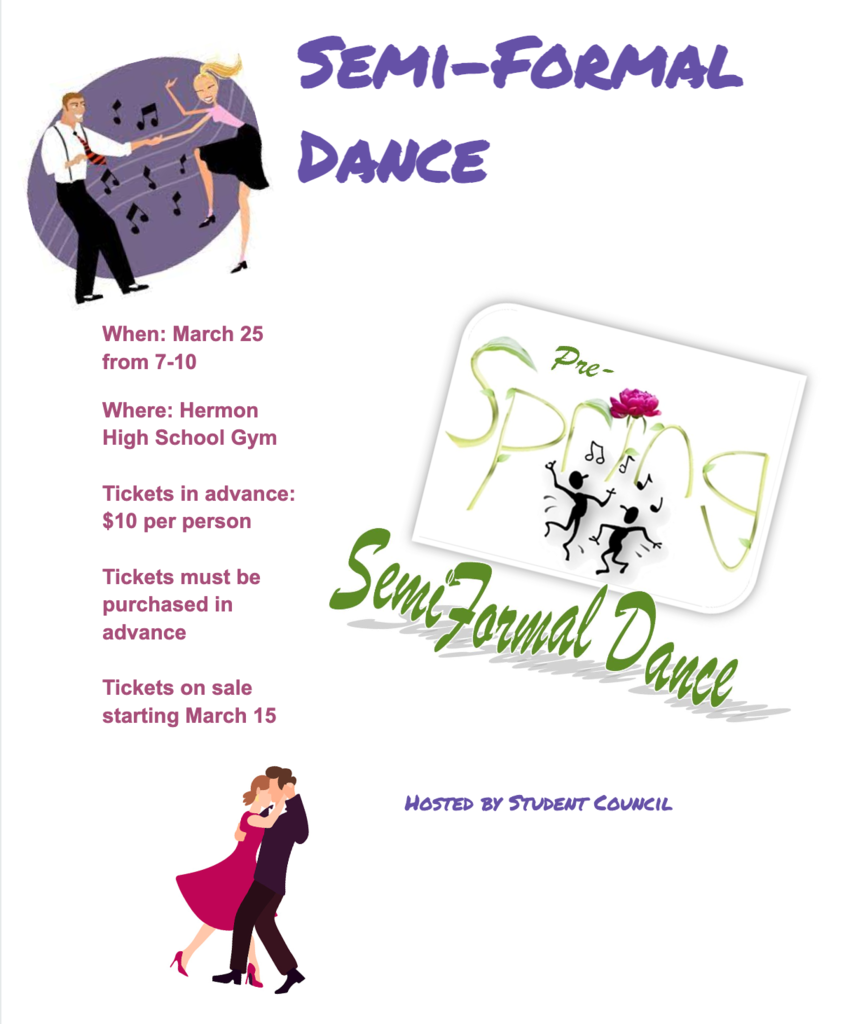 WINTER CARNIVAL UPDATE After a loonngg weather delay, Winter Carnival 2023 will come to closure on Thursday, March 16, with Favorite School Day. Students and staff can show their school spirit by wearing school colors or school logo clothing. We'll end the day with the Winter Carnival Assembly, complete with presentations of class banners by class royalty, the class cheering competition, recognition for winter athletes (and spring performing arts participants) and a few lively group participation activities.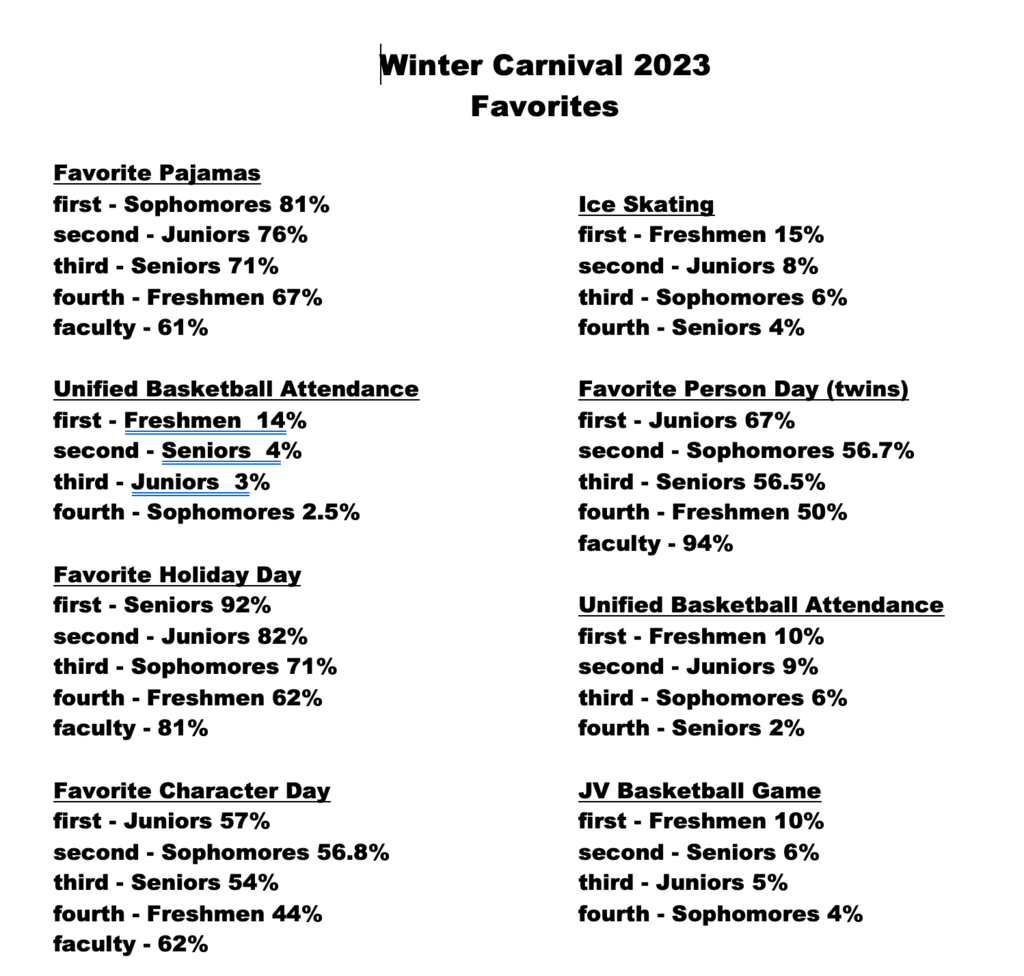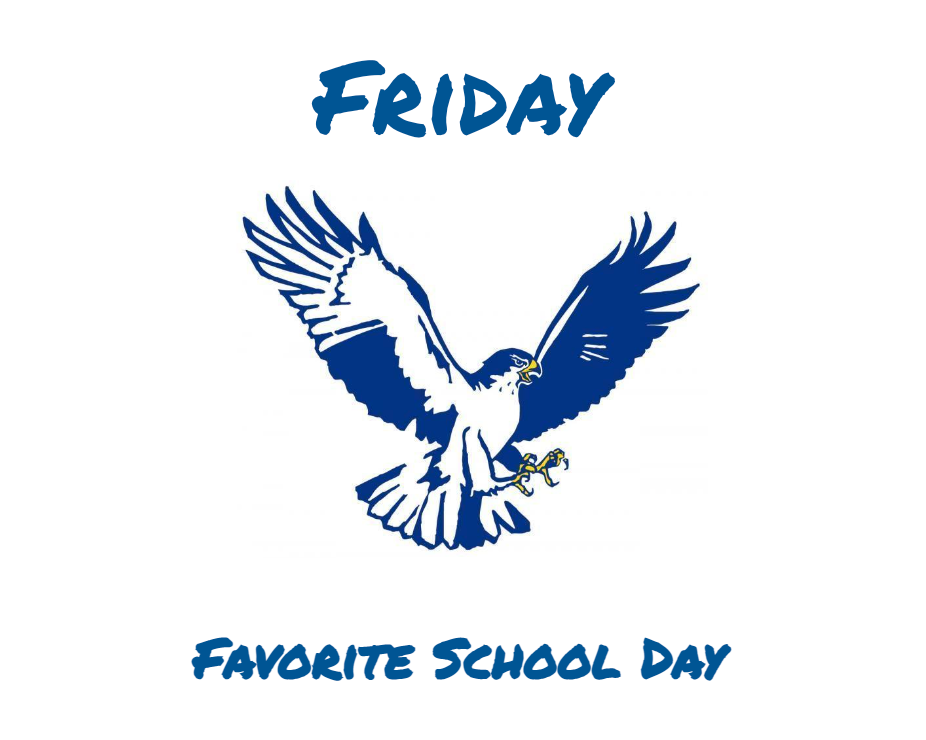 It is time for the 3rd annual Hermon High School Golf Tournament. This year's event will benefit the Classes of 2024, 2025, and 2026, as we raise money for each class's Senior events. In the past few years, we have been overwhelmed and extremely grateful for our local community's support and help in reaching our goals for fundraising. This year, we are hopefully for more of the same. Attached is our golf information sheet. If you are interested in sponsoring our event, contributing to our silent auction, or participating in our event, please reach out to Matt Murray at
matthew.murray@schools.hermon.net
or at (207) 848-4000 ext. 1109. Thanks for your continued support of our students! Here is the sign up sheet!
https://docs.google.com/document/d/1A6KphsX5kaEXlk_p61AJwYMTlZrg67ATuiK0XdvdKRI/edit?usp=sharing


Yearbook ordering window closes on January 30th. Place your order at Ybpay.com using Yearbook ID code 12884623.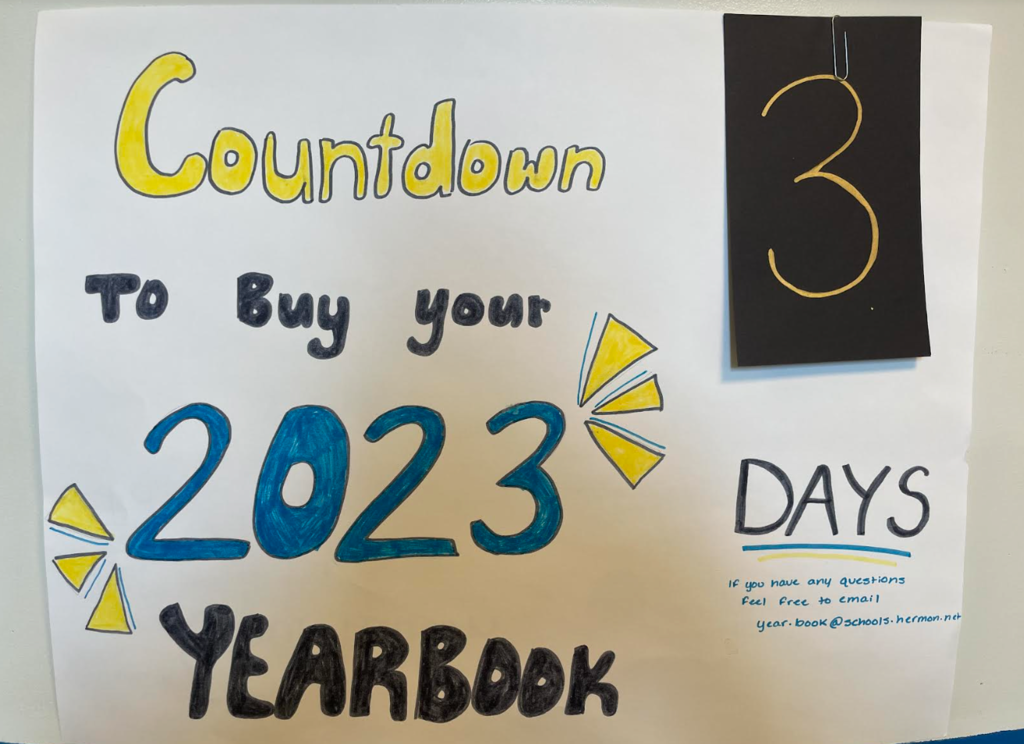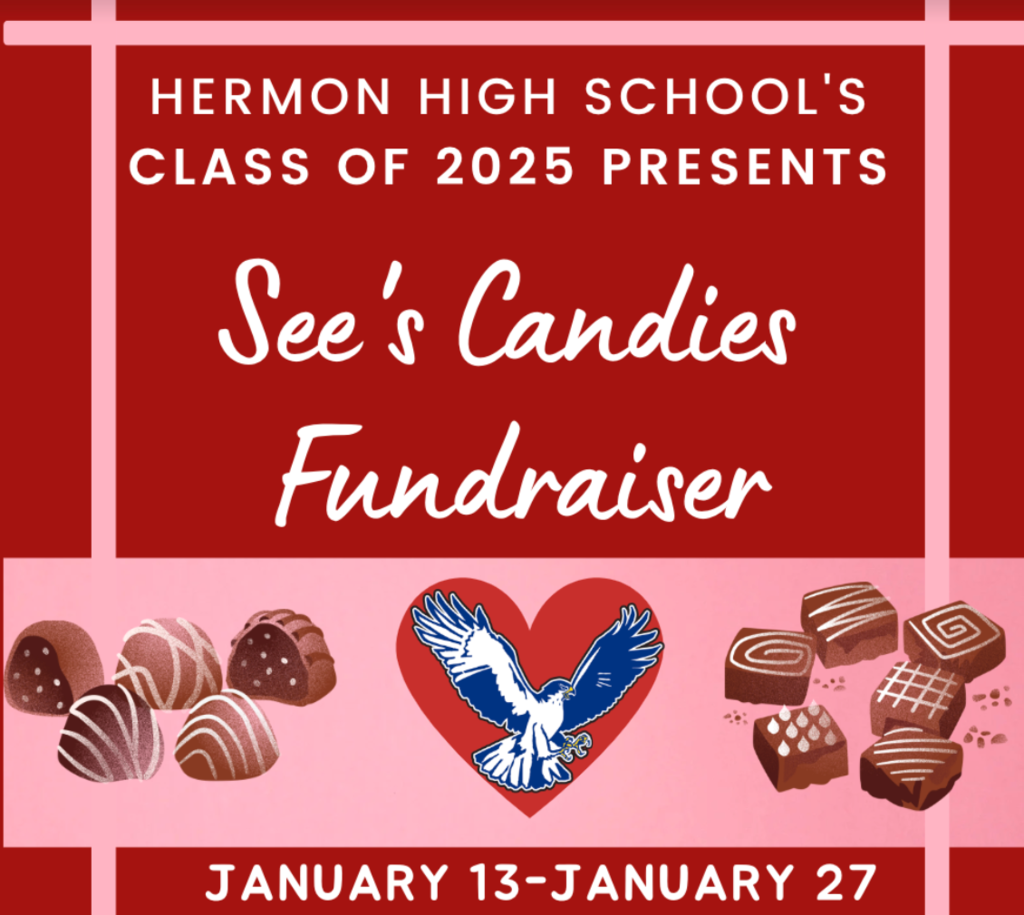 Pet portraits are back!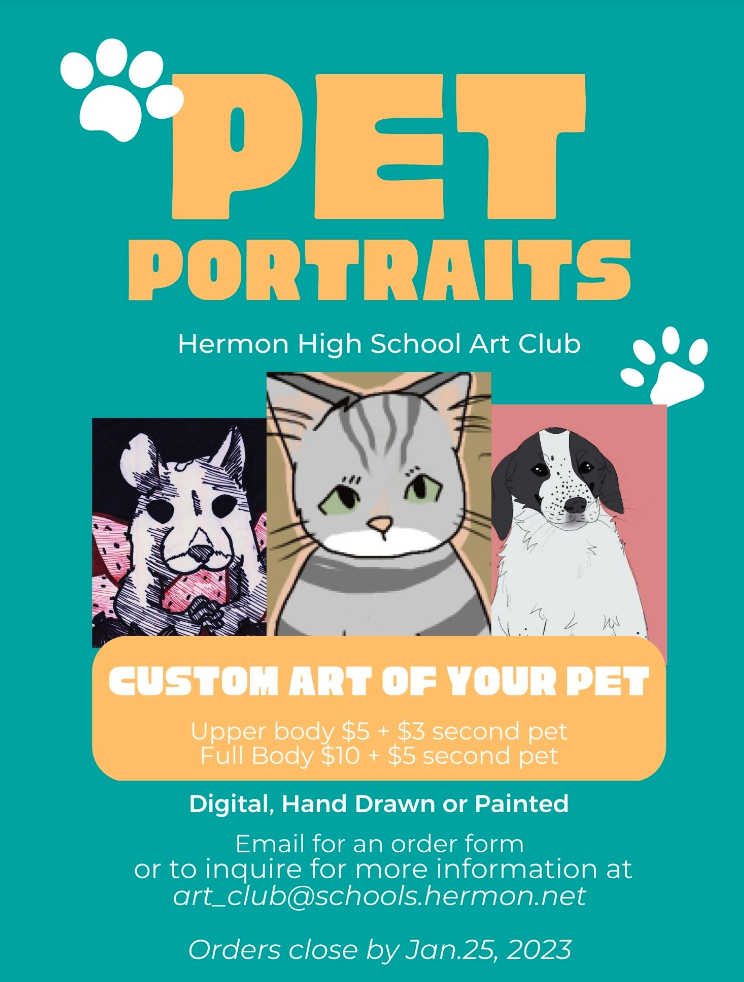 Less than 2 weeks to order your Yearbook!!! Don't be left without!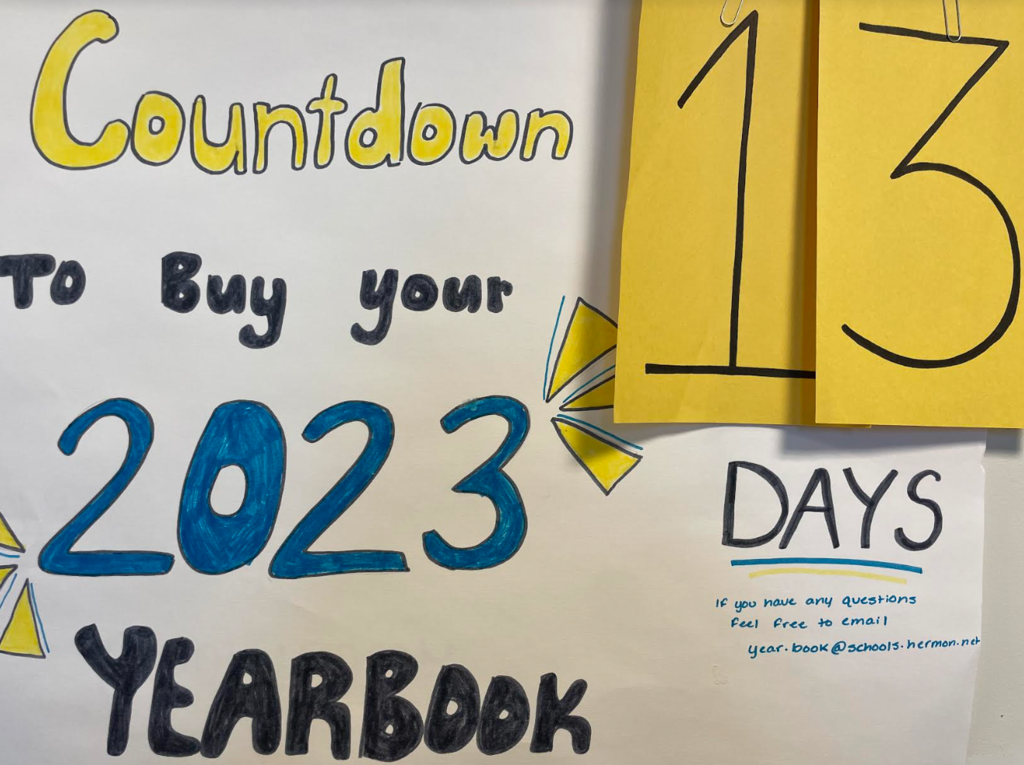 AM UTC ANNOUNCEMENT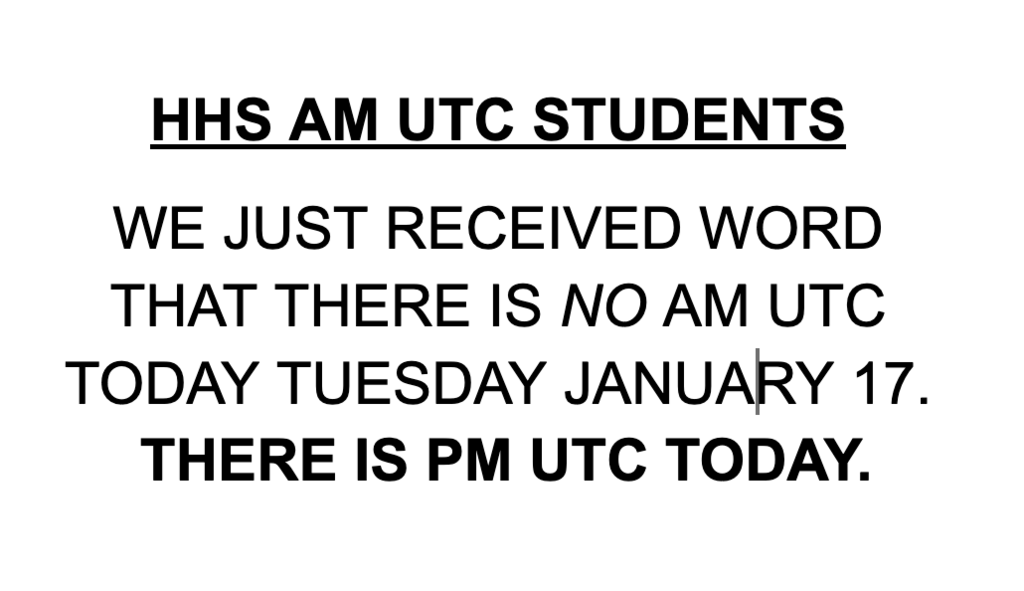 Class of 2023! The Hermon Area Scholarship is now open! A copy has been emailed to you AND you may pick up an application in the Guidance Office. The application can also be found on the scholarship spreadsheet.