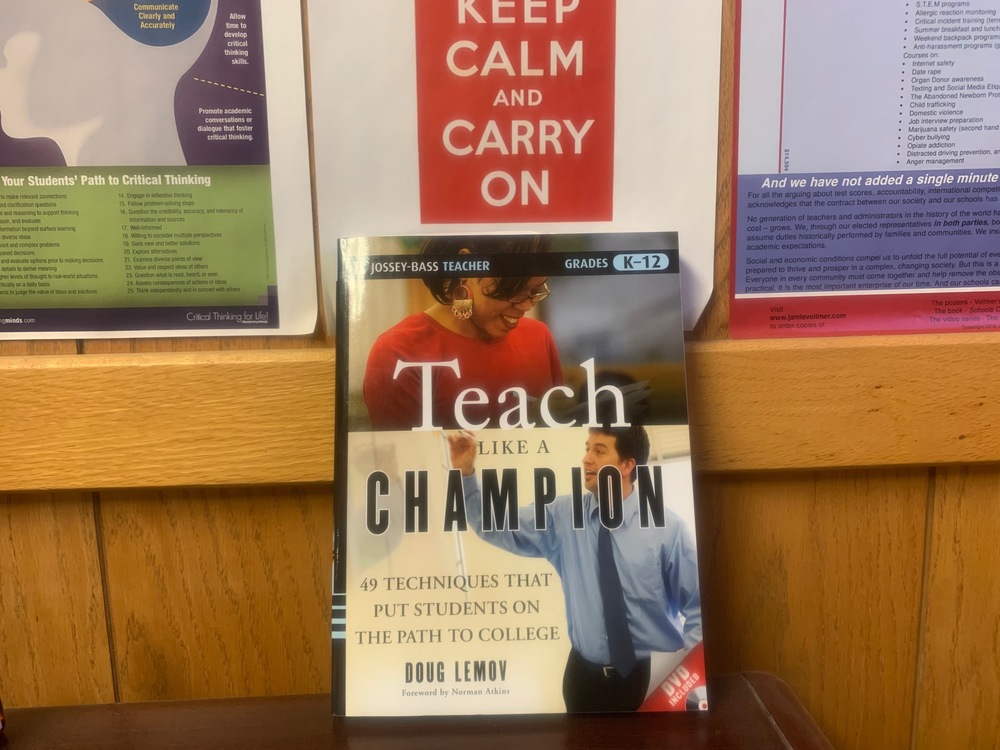 New Teacher Course
Gary Gonyar
Thursday, January 09, 2020
Hermon School Department Institutes New Teacher Course
By Melissa Davis
The first few years of teaching or being in a new district are by far the toughest. As a district, we recognize this fact and want to support our new teaching staff as much as we can. In addition to providing all new teachers with a mentor, we have instituted a new teacher course. The aim of this course is to support new teachers and provide a professional development opportunity through the use of a grounding text. The new teacher class is conducted by the curriculum coordinator, Melissa Davis, and uses Doug Lemov's Teach Like a Champion, as a basis for discussion. New teachers are able to bring their questions and concerns to the group, share their experiences with the best practices they are implementing in the classroom, and work in a collaborative group of peers. We are very excited about the work the new staff are putting into the course and their classrooms, and we are very proud of the dedicated educators we have hired.
The teachers participating in the course include teachers from all schools. From the Patricia A. Duran School, we have Lauren Rioux. Ms. Rioux is in her second year of teaching at the Duran School and is a Hermon graduate. She is a recent graduate of Husson University, and is excited to be teaching in the elementary school she attended as a child.
From the Hermon Middle School we have several teachers. The first is Allyson LeClair. Ms. LeClair is a University of Maine at Farmington graduate, with experience in teaching both kindergarten and third grade. Ms. LeClair is currently teaching 6th grade social studies. We also have Evan Marshall at HMS. Mr. Marshall graduated from the University of Maine in 2019, and is a local, having graduated from Bangor High School in 2015. Mr. Marshall has travelled around the world, and has enjoyed eating peanut butter sandwiches on both an active volcano and inside a cloud in Antigua, Guatemala. Mr. Marshall's experience and excitement serves him well in his position as the middle school Spanish teacher. Finally, at the middle school we have Caroline Washington. Ms. Washington graduated from Hendrix College in Conway, Arkansas. She received her Master's of Professional Studies with an emphasis in General and Special Education from Manhattanville College in Purchase, New York. She is originally from Larchmont, New York (a suburb of New York City), but currently resides in Hermon. Before accepting a position as a special education teacher at HMS, she worked as a teacher for children with language-based learning disabilities.
From Hermon High School, we have two teachers taking the course. The first teacher is Jessica Fusco. Ms. Fusco grew up in Fairhaven, Massachuesettes and graduated from the University of New England. She is familiar with HHS, as she worked as an educational technician for several years. Ms. Fusco was recently able to meet her science idols, Bill Nye the Science Guy and Neil Degrasse Tyson. She is excited to share her passion for science with the students at Hermon High School. Finally, we have Liam Adams. Mr. Adams is a recent graduate of the University of Maine and is currently teaching in the social studies department. He enjoys hiking, kayaking, and camping. Although he has always lived in Maine, he enjoys traveling and sharing those learning experiences with his students.