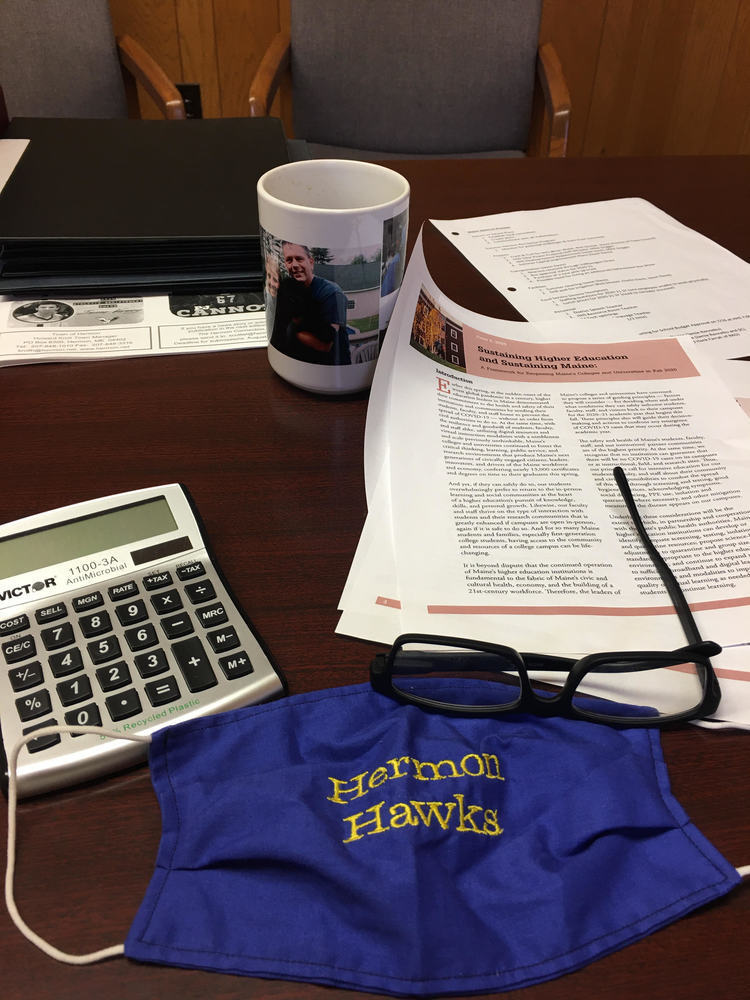 Reopen Schools Update
Jim Chasse
Monday, August 10, 2020
To: Hermon Parent Community
Fr: Jim Chasse
Re: Update on reopening schools
Hello, Hawks!
This is an update on reopening schools. I am sending this out to you over various media in hopes that all parents will receive the information, please share.
First, thank you for your patience and teamwork as we continue to work on the details of reopening schools while following State CDC/DOE guidelines.
Our concept plan was approved on August 3rd. For those of us who like timelines, see below:
July 13: Parent Survey Released K-12
July 20: Staff Survey Released
July 31: State Released County Color System (All counties in ME are currently coded Green)
Aug 3: School Cmt Approves our BIG 6 and Concept Plan
Aug 4: AdTeam Meeting Principals
Aug 5: Central Office Staff COVID Training
Aug 5: Recreation Department and Adteam Meeting
Aug 6: Cares Act Meeting
Aug 6: AdTeam Meeting, Principals and Nurses
Aug 6: District Planning Team Meeting (Transportation, Facilities, Athletics, Food Service, Nurses, Teachers, Curriculum)
Aug 7: School Principals Release Reopen informational video, PADS attendance survey, and
HS update information via social media and website
Aug 9: Update for families and staff
Aug 10: AdTeam Meeting, Principals/IT Department
Aug 10: AdTeam Meeting, Principals/Transportation/Facilities
Aug 11-14: School-level team details
Aug 17: Special School Committee Meeting (Reopening Plan Updates)
Aug 18-27 School Level Team details
Aug 24-26 Staff Inservice Training
Aug 27: First Day of School
Each school has also been working with their staffs and leadership groups.
Schedules. By now, you are aware of our plan to go to school in person every other day with at-home practice days every other day and Mondays for intervention, adjustments, and additional facilities cleaning. Our plan is dictated by classroom space and transportation.
We are hopeful that as time unfolds we would count on local creativity to gain more in-person instructional days, especially for our K-2 students (this exploration is underway).
Updates:
If all goes well with our initial plans, we will ramp up to using Mondays as an instructional day, rotating cohorts (5 in-person days every two weeks). There are many holidays that fall on a Monday which will cause us to lose less academic time. We are in conversations with local businesses to look at possible space that would allow our K-2 to attend on a daily basis.
The recreation department will send their own plans to families which include before and after school programming for those who are attending in-person.
Schools are increasing family contact this week and as the start of school draws closer. Please stay connected to your school website and social media page.
For those of you with children that are health compromised (documentable) and can not return to school, PLEASE CONTACT YOUR SCHOOL and also fill out a Remote Learning Only Form,
The schools are completing both staff and student handbooks, COVID addendum. Please look for the draft this week.
Many parents at the younger levels have teamed together to help with childcare coverage through "homework pods", this is impressive and I hope that enough of those networks can help all families. (If any of our parent advisory groups want to help with this facilitation that would be awesome)
Athletics will provide updates via their website and Facebook page as information becomes available.
We are in the process of updating our technology to better reach families should the need for remote learning only occur.
Principals and other staff will be hard at work this week connecting with families and handling the tremendous amount of details for us to successfully begin in a hybrid schedule.
Thank you for your time.
Best regards,
Jim Chasse
P.S. Please feel free to email me with words of encouragement. We are working our tails off.
Go Hawks!