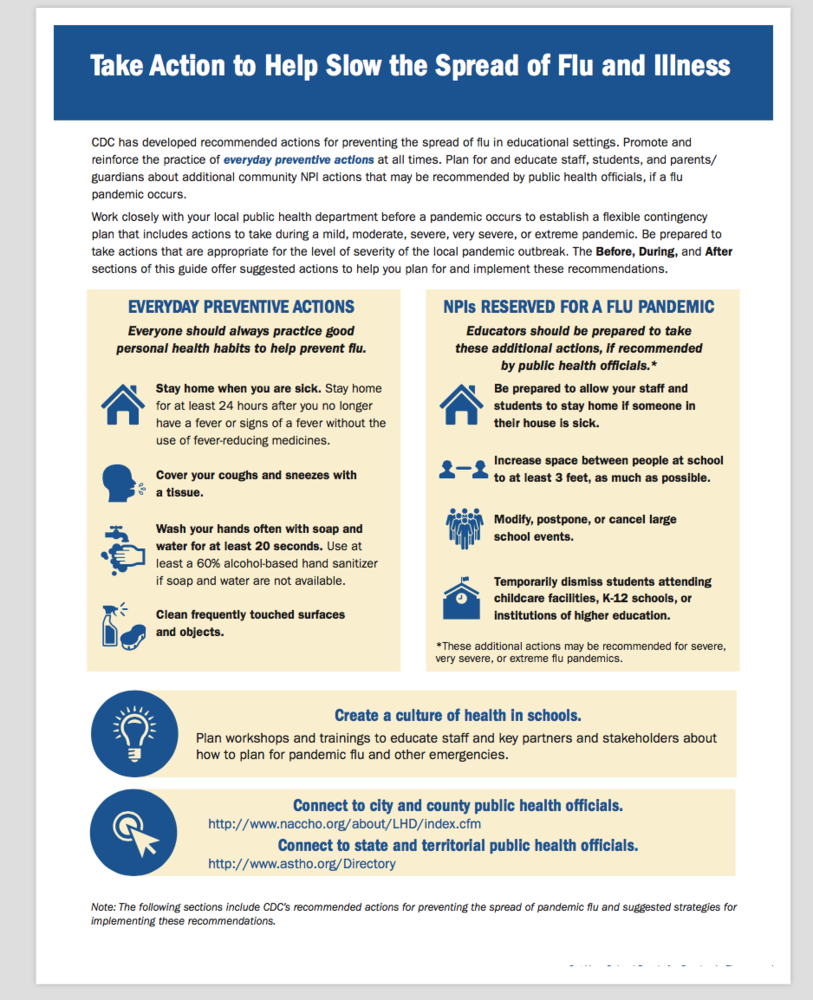 CDC recommendations for slowing the spread of the flu and illness
Gary Gonyar
Wednesday, March 11, 2020
Greetings!
We certainly are living in interesting times!
I want to thank all of you for remaining calm while dealing with COVID-19 and the impact it has had around the world. The faculty and staff of the HSD continue to do their jobs well and have maintained a focus on the education and well-being of our students. That is greatly appreciated!
The Penquis Superintendents have been in constant communication with each other as events have unfolded. We are committed to the safety and well being of our students, staff, and communities. We are closely monitoring the advice provided by a number of organizations, including the Maine Department of Education (DOE) and the Maine Center for Disease Control (CDC). We understand that every community is different, but we also feel that working as a larger group provides us some benefits as decisions are made around canceling events and closing schools.
There continues to be no diagnosed cases of COVID-19 in Maine at this time. Most experts believe that it is only a matter of time, but for now that is where we are at. The Hermon School District has already implemented the personal everyday preventive actions to help prevent the spreading of the flu. That will definitely help us defeat the virus!
The CDC recommends that we apply social distancing techniques, like keeping at least 3 feet apart, staying home when we are sick, and postponing or canceling large group events. All are under serious consideration at multiple levels.
The March 20th Regional Inservice Day and the Skills USA Competition held on the same day are large group activities that the Penquis Superintendents have discussed. Based on the recommendations of the CDC and DOE, we are canceling both events scheduled for March 20th. Although there will likely be many disappointed people, it is in the best interest of the larger group.
The Principals and I will meet later today to discuss other upcoming events to determine a course of action. Each activity will be looked at individually based on where we are right now and on the recommendations of the various organizations we are working with. All of this may change as circumstances change. Like a snow day call, we can only go on what information we have available at that time.
Following is the official announcement of the canceled regional inservice day:
Due to an abundance of caution based on CDC recommendations to avoid large group gatherings, a strategy called social distancing, the Penobscot River Educational Partnership (PREP) is canceling the regional in-service scheduled on March 20 at the University of Maine. Local districts will work with staff to plan alternate activities on that day. PREP thanks everyone involved in the months of planning involved to put together an ambitious program featuring national speaker and educational thinker Trevor Regan. PREP would especially like to thank the University who has gone to great lengths to work with and accommodate its public school partners in this effort. We look forward to regional PD in the 2020-2021 school year.
More information to come about alternative plans for March 20th and Skills USA Competition.
Keep Calm and Carry On!
Sincerely,
Gary J. Gonyar